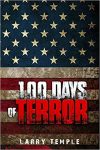 Publisher: CreateSpace, IPP (2017)
Buy the book now at:

Amazon
The suspense in Larry Temple's excellent, haunting, global thriller, 100 Days of Terror, begins as a seed planted in the minds of the main characters and the reader. A torched car is found in a field in New Jersey. Residents in a town in Idaho wake to find green water gushing from their faucets. A small college town in West Texas is vandalized. And, then, three trucks explode on a highway in Los Angeles, and the clues linking the explosion to the other incidents are undeniable. The FBI knows that these aren't random acts of isolated violence but an escalating series of terrorist incidents designed to disrupt life in America. During the next few months, multiple bridges will be bombed, airports will close, many highways will be unnavigable, communities will suffer power outages, and groups of children will stop attending school. The Dow Jones Industrial Average will steadily drop and the entire nation will be wondering what and where the next attack will be. Who is wreaking this havoc on America?  To determine that answer, however, another question must be asked:  Why?
At the heart of it all is Noah Reardon, an FBI agent in his thirties who saw plenty of violence during three years in Afghanistan with the Joint Special Operations Command. It is in America, though, where he has suffered egregious personal loss and is now getting through his days in an alcoholic haze. His boss, the gruff, no-nonsense McCullum has his reasons for not firing Reardon. Laura Spencer, Reardon's partner, is protective of him, even while she chastises him for constantly over-sleeping and reeking of booze. Reardon has a personal connection to the events at hand; it was his stolen car that was found torched and abandoned in New Jersey. Could this have something to do with his liaison officer and close friend in Afghanistan, Abdul?  After all, it was Abdul who told him, "Anyone who attempts to contradict or interfere with America's drive for money and power are terrorists in your mind." But, no; this can't have anything to do with Abdul, the man who died in an explosion, the man who saved Reardon's life. Or can it?  Temple does an extraordinary job of keeping the reader guessing. Clues, the name of the game, are planted, but what to make of them?  A sinister series of riddles are at play.
As a whole, the novel is a thoroughly engrossing meditation on what people can survive. The attacks aren't leveled at the entire nation; they take place in an exact time and region of the country. Citizens will learn that they can keep going after local destructions. That doesn't mean they emerge unscathed, however. They are forever changed by suspense-filled days, by hours wondering where and when the next attack will occur. If an explosion occurs nearby, can they relax for a moment and assume the next one won't happen in their city, on their street? What is the true aim of terrorism?  To eliminate people or to make fear such a constant in their lives that they stop living; they exist only to run for cover when the next attack occurs. When there is no end in sight for certain yet unpredictable violence, people are trapped in a cycle of action and reaction. "Normal" is no longer part of the national vocabulary.
The ending packs a huge wallop, a kick to the gut that will leave you gasping for breath. It causes the reader to stop and reconsider every question raised in a narrative that moves forward and back in time, giving us a composite of Reardon's life, a mosaic of the good and the bad, the wonderful and the painful. Like the best fiction, it will leave the reader asking the question, "What would I do?"  Read this powerful thriller for yourself and see if you can supply the answer.