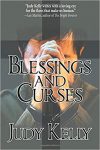 Publisher: Black Rose Writing; 1 edition (2018)
Buy the book now at:

Amazon
Author's Website
Olivia Douglass has completed her college coursework in religious education and is set to graduate. Her adoptive parents and sister and will be on hand for the occasion along with her steady beau, Claude. But she harbors a painful secret: contrary to their expectations, she has decided not to go on to become a priest, even though she has been preparing to do so for several years.
Since childhood, it seems, Olivia has felt a curse upon her, some wickedness that follows her, making her unworthy of a religious profession. That feeling has returned at this crucial juncture to cast a shadow over her plans. Understanding, but unsure she should give up her plans, Olivia's parish priest sends her on an errand of mercy – to pray with Leon, a man on death row with only two weeks to live.
Assisted by fellow church member Wesley Johns, meeting the prisoner proves far more difficult than Olivia had imagined. She persists, though, and tries to access the spiritual nature of this hate-filled man who kidnapped and slaughtered numerous women and children. As Olivia gets to know Leon better, she simultaneously forms a friendship with Wesley, and they discover that they have a link, Wesley shares in the curse that envelops her—and like her, longs for a way out.
At the same time, her parents' reaction to Olivia meeting and praying with Leon is odd and rather disturbing. On top of that, her sister begins to reveal signs of her own cursed and tormented life. Finally, Olivia will confront her ghosts, and theirs, in a brave and daring move.
Author Judy Kelly writes with skill and intelligence, building her plot step by step so that even when the reader begins to think that the outcome is inevitable, a twist crops up to turn the tale in yet a new direction. Visits to the prison have a knowledgeable feel, and the character of Leon is vividly depicted as he at first crudely and violently rejects Olivia's help, then gradually comes to accept and welcome her, and finally accedes to her spiritual support on the next to last day of his life.
Kelly draws her characters with depth, from the twisted psychology of a serial killer to Olivia's growing tenderness toward Wesley, and with it, the revelations prodding her about Claude's dark side.
Blessings and Curses combines themes of romantic love, family ties, religious aspirations and coming of age with a slowly unfolding, at times terrifying glimpse of genuine evil.