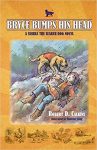 Publisher: Callout Press (2016)
Buy the book now at:

Amazon
Author's Website
Bryce Bumps His Head: A Sierra the Search Dog Novel is a heartwarming chapter book perfect for the young reader who loves animals. Despite being the fourth book in the Sierra the Search Dog series so far, readers will not have any trouble jumping right in with this story of a dog's not so typical day on the job.
Sierra and her handler, fifteen-year-old Bryce, are having a practice session when Rusty the Great Dane, and Sierra's best friend, escapes his house and is set on playing with Sierra, but Sierra takes her job seriously and only plays with her friend once she finishes her job. The next day, a Girl Scout Troop is hiking on a rather cold and rainy day. Mrs. James almost cancels the hike but decides it would be a great opportunity to teach her girls how to stay safe in inclement weather. At the same time, Bryce is giving a rundown of the basics of Search and Rescue to David and his dog Harper.
After giving a successful survival lesson to her troops, Mrs. James is negligent in keeping track of the Girl Scouts on the hike back and notices two Scouts are missing and cannot be found anywhere. Bryce and Sierra are called in to help in the search, and Sierra catches onto the right scent right away after diverging off the beaten path. The rescue mission then takes a dangerous turn and Sierra finds herself in a situation where she doesn't only have to save a missing girl in the woods, but her own handler and companion. She must rely on her training from Bryce to save the day.
Robert D. Calkins delivers a charming story for middle-grade readers. The writing style is relatively simple while still being engaging and exceptionally educational teaching many lessons on service animal etiquette, survival skills, following directions, and always trying your best in any situation. And while the author includes educational aspects to tell the story and requires readers to fill in details with their own imaginings of the characters' surroundings, which is especially difficult if readers are not familiar with the Pacific Northwest. That being said, this shortcoming is rather minor as readers will be too busy caught up in the suspenseful tale of Sierra trying to save the day.
Set in the beautiful landscape of Green Mountain along the Suiatte River in Washington State, readers will be instantly enchanted by the courageous Sierra and her young handler Bryce, as she aids in the search for lost people in the wilderness.