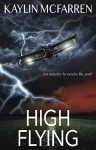 Publisher: Creative Edge Publishing, LLC (2019)
Buy the book now at:

Amazon
Author's Website
Stunt-pilot, 21-year-old Skylar Haines, honed by a childhood of adversity and trauma, is ambivalent about flying eight new maneuvers for which she's had little preparation and no in-air practice. A lot could go wrong.
Her father, a pilot, was killed in a plane crash before she was born, triggering her mother's downward spiral into a life of booze, drugs, and prostitution. When Skylar was seven, her mother died. As an orphan, Skylar fell into the system until her grandfather stepped in — no bed of roses there. Although she emerged an independent, savvy, and street-smart survivor who'd learned to fly along the way, those painful memories of her youth are always fresh in her mind.
Why had she agreed to fly in tandem with her mentor, Jake Brennen, for this performance? She might have said it was a lifelong dream. Or, that she did it out of love. Both would be true, but, of course, there is more…
Before she realizes it, she's flown into the bowels of a storm, loses radio contact with Jake, and struggles to keep her plane aloft. After a near miss with another aircraft, she regains radio contact. A stranger talks her down into a world before her time.
Skylar uses everything she knows, and everything she's learned to survive. Dylan Haines, who's not yet her father, saves her, and she becomes entangled in his life in ways that stretch the imagination. He is caught in a web of danger and deceit destined to kill him. Skylar is tempted to intervene, but she knows his fate is set. Her father has to die, in order for her to live.
Like a modern-day H.G. Wells, Kaylin McFarren's High Flying, ventures boldly into the fourth dimension, where history is reimagined, and epiphanies come in three-dimensional, real time. This gritty, emotionally penetrating story, set in Nevada, that not only touches upon social concerns with roots in the past but reaches into the future. The characters have depth, and the dialogue is sparkling authenticity. Here's a story where everyone has an agenda, there are more crooks than cops, and bullets fly with abandon. In other words, a deliciously twisted sci-fi mystery with plenty of danger and romance!