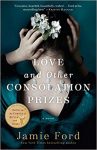 Publisher: Ballantine Books; Reprint edition (2018);
Buy the book now at:

Amazon
Author's Website
In 1902, the year of the Boxer Rebellion in China, five-year-old Yung Kun-ai watches as his mother buries his newborn sister in a tiny grave that she has dug with her fingers. The starving mother hadn't been able to feed her. She kisses her son and gives him her only possession, a filigreed hairpin, then tells him he must remain in the cemetery until his "uncle" comes to take him to America, to a new life in a new world. "This is my gift to you," she says as she shuffles away.
These words, and the poignant story that follows, bring to mind two words from the title of author Jamie Ford's New York Times bestseller first novel—'bitter' and 'sweet'. This is his third…worthy of equal praise.
Yung spends that chilly night shivering, in fear of the nearby fighting between rebels and soldiers, and in doubt of his future. But his mother's gift does indeed come to pass. A voyage of many weeks in the hold of a freighter takes him to Seattle. His early years there are not easy, however. Fathered by a white missionary, he is a half-breed and the brunt of taunting and worse by both his peers and his elders. Nonetheless, he ably gains an education, takes the name of Ernest Young, and begins to earn a living as the twelve-year-old houseboy and driver at a high-class brothel called The Tenderloin in Seattle's Garment District. The other occupants—servants as well as the 'working girls'—become the family he has yearned for. Some years later, he has his own family with Gracie, a Japanese immigrant known as Fahn when he met her (for the second time) at The Tenderloin.
The story hops back and forth between the first and seventh decades of the century, centering on Seattle's Alaska-Yukon-Pacific (AYP) Expo in 1909 and the city's World Fair in 1962. A raffle at the former is what brings Ernest to The Tenderloin. During the latter, Ernest and Gracie's daughter Juju, a journalist, has been asked by her editor to write a then-and-now story of the two fairs, based on interviews with old-timers who have been to both. Her primary interviewee is to be her father, she thinks, but he stalls her, offering only tidbits—nothing that would put her story on the front page. Why is he so reluctant? Is there a tale he doesn't want to share, not only with the newspaper's readers but even with his daughter?
This historical novel is brought to a literary level not only by the author's expertise with language but also by the extent of his research into the facts around which the story is woven. In an Author's Note, Ford explains that his inspiration for writing is a "never-ending appetite for lost history—the need to constantly turn over rocks and look at the squishy things underneath."
For this novel, one of those rocks was the 1909 Alaska-Yukon-Pacific Exposition. From yellowing newspaper articles relating to the Expo, he learned that both the suffrage movement and "social evils" such as brothels (not only the moral evil but the spread of syphilis) were at their height in Seattle at that time. One article told of a child (named Ernest), who was donated by the Washington Children's Home Society as a raffle prize at the AYP. Another described a climb up Mount Rainier by Washington suffragettes. Much was written about the plight of East Asian immigrants, economically forced into servitude and prostitution. Jamie Ford drew on these articles and other historical documentation to create this touching story and to bring to life its colorful and accurately drawn characters.