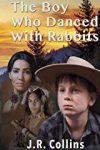 Publisher: W & B Publishers Inc. (2016)
Buy the book now at:

Amazon
Author's Website
J.R. Collins has given a voice to an ancestor, Jeb Collins, who was almost killed at birth – twice. His survival is significant for that, but also for the fact that in another part of the Georgia mountains, a Cherokee boy, Wolf, is born on the same night. The families of the two boys will meet and mix in the early days of American settlement when everyone had to struggle for survival, and such friendships were still possible.
Jeb learns smatterings of Cherokee language, and Wolf and his kin pick up English with a sharp mountain twang from their settler neighbors. Together Jeb and Wolf explore the mystical, mountainous part of Appalachia named Cho-E-Sto-E for the prevalence of rabbits there.
Both of the boys' fathers remember and despise the British who killed the American rebels and betrayed the Indians who agreed to help them; and both hate all evil-doers, like the ones who kidnapped Jeb's sister or the sneak-thieves who stole from Jeb's family. But most of all, they will stand united against a nearby tribe that wants Wolf's sister as a bride for their leader.
The author grew up in the region he describes so vividly in this, his first novel, and has a sequel, the award-winning, Living Where the Rabbits Dance. The story, focusing on the boy's view of a sometimes-dangerous world, is told in a satisfyingly recognizable dialect, using many endearing folk expressions – one of our favorites being, My heart melted like butter on a hot biscuit.
This multilayered saga presages the time that will come when the Cherokees will be marched away on the Trail of Tears, and family connections like those depicted here will be destroyed in the name of Manifest Destiny. It is heartening to read about the few years enjoyed by such friends as Jeb and Wolf when they could roam the land together with the approval of their elders. There is a finely-honed homage paid to two religions, the Christianity of the Collins clan and the animist visionary beliefs of the Cherokees, each playing a role in Jeb's perceptions of the world around him.
From learning to fish to making bead bracelets from local gemstones, to seeing visions invoked by Cherokee spirits, here is a tale of a boy coming of age in a significant time and place. Collins' book records that history, that atmosphere, with equal measures of zeal and reverence.
The Boy Who Danced with Rabbits by J. R. Collins won First Place in the 2017 CIBAs for the Goethe Awards, Western Fiction.