Listen to or download this article: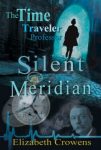 Publisher: Atomic Alchemist Productions, LLC, 2nd edition (2019)
Buy the book now at:

Amazon
Author's Website
A budding concert pianist delves into the realms of spiritism, sexuality, and scary foreshadowing through his time travel adventures in Elizabeth Crowens' steampunk novel, Silent Meridian.
John Patrick Scott, a conservatory student, meets with Arthur Conan Doyle in Edinburgh, Scotland under unusual circumstances because of an elusive and mysterious red book. Arthur, lacking inspiration and tired of his Holmes character, covertly employs John as a ghostwriter. The two also indulge in the transmigration of souls and time travel. The latter topic is of high interest to the young aspiring musician since he has already accrued a handful of time-travel experiences via a mechanism of his creation. Although Arthur introduces John to nightly practices of communicating telepathically, John doesn't include the beloved author in his time-traveling adventures until years later.
John's time-traveling skills sharpen to the point that he no longer needs his device and uses his grandfather's timepiece instead. He becomes particularly fixed on exploring his past, especially his school days at the Underground University; he includes Wendell Mackenzie, his old schoolmate, on his adventures—some of which John escapes just in the nick of time. Over time, John finds it difficult to distinguish between time travel and dreams and seeks the help of Sigmund Freud and Carl Jung. His adventures take a dark turn when they predict an impending war.
Sherlock Holmes' enthusiast, Elizabeth Crowens, spins a wild tale riddled with glimpses of stories and themes from the early 20th century. Crowens' quirky narrative, which covers sixteen years, could easily befit behind-the-scenes to John's ghostwriting connections to Doyle's published works: The Man with the Twisted Lip, The Adventure of Charles Augustus Milverton, and The Adventure of the Greek Interpreter, to name a few.
Scenes regularly flip from John's music studies and his time-travel quests, and are heavily punctuated with references to prominent historical figures and their thematic connections of the era, such as H.G. Wells, J.M. Barrie, Jules Verne (fantasy and sci-fi); Sigmund Freud, Carl Jung (psychology); and Aleister Crowley, Theodore Reuss (metaphysical). While sexual identity plays a close second to the last parenthesized theme scenes, providing only innuendos. John continuously processes his particular leanings, weighing his feelings as a woman in some of his time-travel ventures and amid affairs against Doyle's and Wells' free-love beliefs.
Crowens balances nonfiction with fiction by incorporating memorable characters, such as Whit, John's annoying tutor, and Finn (who John dubs Sherlock), John's "Jiminy Cricket" guide who is only visible to John and comes and goes as he pleases. Sure to be a new favorite for Sherlock Holmes' aficionados, Silent Meridian's cliff-hanging closure is a perfect segue to the second book in Crowens' The Time Traveler Professor series, A Pocketful of Lodestones.