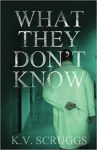 Publisher: NightLark Publishing (2017)
Buy the book now at:

Amazon
Author K. V. Scruggs proves that What They Don't Know can kill. When left unchecked, public policy propelled by the best of intentions is still subject to the greed and corruption of those with the power to implement it. Scruggs takes us on a frightening journey where pervasive technology paired with behind-the-scenes corruption can hide grave results from the trusting, and now vulnerable, citizenry.
Cheyenne Rose lives a glamorous life as a Talk Show Host who sensationalizes the stories of the guests interviewed on her program titled, 'The Stories That Matter.'  The unexpected adventures of one family on her show irrevocably touch Cheyenne's heart. She has no idea that her own life is about to be inextricably tied to them and their troubles.
This young family's infectious innocence and zest for life spread through Cheyenne and her audience. They attribute their blessings to the new government health care system that has implemented complete access to health care for all – including a life-saving surgery for one of their sons. Cheyenne reports that streamlined efficiencies built into this medical care solution are celebrated by patients, doctors, nurses, and practitioners. It almost seems too good to be true.
In order to have the peace of mind that comes with such effective health care, small intrusions into individual privacy, hardly noticeable, are necessary. For example, the technology tracking your vital medical signs can dispense pharmaceuticals you may need. In addition, this miracle tech monitors an individual's activities to ensure they get enough sleep, exercise, and, well, maybe also keeps track of other personal information.
When an ugly surprise lay ahead for the guest family on Cheyenne's show, events prompt her to ask questions that government officials don't want to answer. But how can she stay one step ahead of a political adversary who knows her perhaps better than she knows herself? Now Cheyenne is plunged into the midst of a dangerous struggle that threatens the lives of those close to her, and ultimately her own.
The author, a physician by day, threads her mastery of medical knowledge throughout this thrilling novel, making it terrifyingly believable. Her writing is suspenseful and exciting, with dynamic characters who heighten the fast-paced mystery.  K.V. Scruggs enjoys writing about thought-provoking medical issues, and the outcome is nothing short of a heart-pounding thriller.
This dramatic tale explores what can be hidden within the deep, dark crevices of getting what you want.
What They Don't Know won 1st Place in the 2017 CIBAs in Global Thrillers Awards!