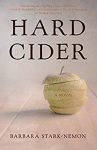 Publisher: She Writes Press (2018)
Buy the book now at:

Amazon
Author's Website
Abbie Rose Stone is a woman determined to follow her newly discovered dream of producing her own craft hard apple cider while navigating the ups and downs of family life with her grown sons and husband.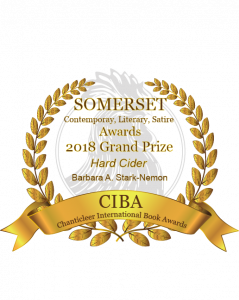 Abbie Rose knows how to deal with adversity, and dives headfirst into this new chapter of her life with energy and passion. She describes her early adulthood years of infertility struggles and the hardscrabble way she built her young family through invasive medical procedures, a surrogate attempt, and adoption barriers.
After finishing a successful career in education and raising her three sons, Abbie Rose now sees an opportunity to create a new segment of her life's work in a blossoming business venture. She's set to take on this new venture by herself, determined to succeed, with or without her husband's support. Yet, while she lays out her meticulous plans for her cider business, life keeps happening around her, attempting to derail Abbie Rose at every turn.
Hard Cider is a well-researched second novel for Stark-Nemon, providing intricate details on everything from orchard planning and cider creation to knitted handicrafts. Stark-Nemon leaves no stone unturned and is meticulous with her descriptions of the lands and seasons of Michigan. So much so, that readers may leave this story ready to travel to this Midwest region and will find familiarity in the real-life scenes based on her elaborate imagery.
The story builds slowly, relying upon richly descriptive settings to create the Stone family and the world in which they live. The tidbits of information presented about infertility, a shocking house-fire, parenting a troubled child, and marital woes are intriguing, and some may find, too brief, leaving the reader wanting more. Which isn't altogether a bad thing. In fact, the strength of this work is that the reader is left wanting more, imagining what might happen next for this cast of characters we're not quite ready to leave behind.
A central theme of this down-to-earth story is the word new. New business ventures, new life changes, new family mixed with old, and new lives for the Stone family. Abbie Rose handles each of these life-altering adaptions with courage and a reflecting thoughtfulness. She teaches those around her what it means to manage life with a grace we can all hope to emulate.
All in all, Hard Cider is a thoughtful literary novel of one woman and her ambitions to rise above what life has handed her to create an experience of beauty, one that is formed not void of hardship, but despite it. Recommended.
Hard Cider won Grand Prize in the CIBA 2018 Somerset Awards for Literary Fiction.