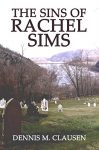 Publisher: Brown Posey Press (2018)
Buy the book now at:

Amazon
Author's Website
With a nod to Nathaniel Hawthorne and the accused adulteress Hester Prynne in his renowned literary classic, The Scarlet Letter, Dennis Clausen sheds a familiar light on the central character in the multi-faceted psychological tale The Sins of Rachel Sims. In this intriguing two-fold drama, a desperate young woman searches for her own true identity while simultaneously unraveling the mystery behind a woman's disappearance from decades in the past.
In May of 1952, the dark-haired Midwestern beauty Rachel Sims mysteriously disappears from the haunting riverbanks of Hodges Island. While gossip mongers spout that the immoral young wife ran off with a well-dressed gentleman from Iowa, the local cemetery caretaker, "Crazy Charlie," insists he sees Rachel, aka "The Lilac Lady," walking the island on quiet spring evenings.
Some twenty years later, Laura Fielding, a graduate student at the University of Minnesota, begins to question who she really is when she stumbles upon an incriminating letter that suggests the couple that raised her are not her biological parents, and the three have been living with stolen identities. The startling information gives Laura a pause and reasons to question her broken relationships and a diagnosed bonding disorder.
The upheaval triggers her obsessive need to uncover the truth. With the help of eccentric psychiatrist Ned Finley and his friend Aurther Schlepler, a proven psychic who'd helped police with difficult cases – though now a patient in the Farmington Mental Hospital – Laura attempts to find answers about her past and explore the secrets of her childhood memory. Through a combination of regressive hypnosis, a psychic's intuition, professional insight, and Laura's own detective work, a winding journey leads her to the area of Point Tyson and reveals plausible a connection to the vanishing Rachel Sims.
Far beyond a typical cloak-and-dagger rendering, Clausen weaves a more subtle, yet palpable essence of evil lurking in the shadows of this double-edged story. From threatening messages warning characters to "stay away" to the heated glow of a lit cigarette in the dark, Clausen expertly gives his readers nuances of suspense that serve to heighten the drama and keep us glued to the page.
Through a detailed narrative, Clausen creates an artful balance of people and place. Here Laura's investigation takes her on a circuitous path showcasing both beauty and danger, from the natural Hodges Island environment where fragrant lilacs bloom amidst an overgrowth covering hidden death traps.
Legend maintains Hodges Island was inhabited by warrior spirits and "Heaven's Outcasts" and Laura needs help to unravel this mystery along with the deep secrets of the puritanical church community and the self-righteous male-dominated religious enclave attempting to hide its own sins. To Laura's benefit, an eclectic group of die-hard locals including – but not limited to – record clerks, diner patrons, and gravestone cutters offer bits of information to help her piece the puzzle together.
The plot is moved at a steady pace, with action going back and forth between the past and present. A recurring dream from Laura's childhood serves as an essential connector for these two timeframes. While she contemplates old photographs or finds hidden Bible inscriptions, the feelings of déjà vu are always with her and enhanced in the text with Laura's italicized thoughts and feelings about her past and the meaning behind the newly found discoveries.
Like the regressive therapy used to tap into Laura's childhood, Clausen's tale revisits a once-thriving rural community ensconced in a history shadowed by lies and deceit. Above all, it proves a well-crafted, compelling read for those drawn to intricate layers of mystery that confront long-buried secrets.
The Sins of Rachel Sims by Dennis Clausen was Shortlisted in the 2017 CIBAs, in the M&M  Awards for Mystery Novels.