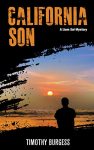 Publisher: Amazon Digital Services (2018)
Buy the book now at:

Amazon
California Son, the second installment in the Liam Sol Mystery series by Timothy Burgess, presents another action-packed mystery for protagonist Liam Sol to solve. Honorably discharged after his tour of duty in Vietnam, Liam returns to his primarily Hispanic neighborhood of Baja La Bolsa, a coastal town near LA, California, where trouble finds him.
In his role as a journalist, Liam takes interest in the daily pleas of a Hispanic mother to find her son's murderer, pleas that the mostly white La Bolsa Police seem to ignore. After an article he writes in hopes of renewing interest in the case appears in La Bolsa Tribune, the mother is found dead in her apartment. No stranger to death or violence, Liam soon finds himself on the personal side of a hunt for the killer of not only the son but also the mother.
Burgess's skillful writing takes us to the seamy underbelly of LA and oil-developer-politics to a world that relies on lies, corruption, and a complete lack of morals to gain the dizzying wealth that most of us only dream of. We root for Liam all the way, hoping he can rise above the corruption of his father's world and achieve a life without the dark secrets that shadow every aspect of his existence.
Set against a backdrop colored by 1970's music and surfer culture, our hero suffers from the guilt of possibly having caused the mother's death. He begins to unravel the connection between the mother-son murders and, at the same time, crosses the line of an investigative journalist to that of private detective in his nail-biting pursuit of justice.
Burgess develops a protagonist whose work as a journalist and his flashbacks to Vietnam show us a man who is fragile in some ways and strong in others – and conflicted most of the time. We are drawn into Liam's quest to solve the murders, but as curiosity killed the cat, Liam's curiosity comes close to killing the core values that he holds so dear, the values that hold him above the corruption that ultimately destroyed his father.
Perfectly paced, this action-packed story leads us through the tropes of survival guilt, child abuse, sexual abuse, and some serious race and gender issues that during this time were discarded as irrelevant and today are seen for what they are, a crime. In spite of the need for one more professional edit, the story is solid, built with strong characters and an action-packed plot that will likely keep readers on the edge of their seats to the last satisfying page.
Burgess won Grand Prize in the CIBA 2018 Clue Awards for California Son