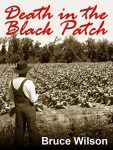 Publisher: Artemesia Publishing, LLC (2016)
Buy the book now at:

Amazon
Author's Website
Drawing on fact, fable and inherited lore, author Bruce Wilson has created an imaginative, at times unsettling view of upheaval in southern American history and its effects on local culture, economy and family ties.
With a large brood to care for, Wes Wilson grows tobacco in a region known as the Dark Patch, a cluster of counties in Kentucky and Tennessee. Their way of life suddenly comes under threat when the greedy reach of the newly burgeoning American Tobacco Company seeks a monopoly on the crop.
In a powerful pushback, zealous local farmers form an Association sworn to combat ATC's grip on their livelihood. To join the Association, or to ally with ATC, becomes Wes's obsessive dilemma. Day by day he calls on his brother, cousin, and friends to see which way they are tending. Night by night he and his son Anthie keep vigil with firearms, lest their property becomes one of the targets of the Association, which menaces, even destroys, farms whose owners, like Wes, are still uncommitted in their loyalties. Wes's steadfast wife Zora carries on the ceaseless round of women's tasks, worrying and praying as she sees Wes more likely to take comfort from whiskey than from the Lord. The situation grows daily more perilous until Wes realizes that someone he believed he could trust with his secrets has turned traitor, and hell finally breaks loose.
Author Wilson, a History Teacher by trade, has pieced his novel together from tales told by his father and a few snippets of evidence detailing his forebears' involvement in what became known as the Black Patch Tobacco Wars of 1904-1909. Wilson's settings and dialog are well rooted in the time and region. His ability to delve into the minds of his characters is a notable strength.
Wes is introspective but gutsy—willing to step outside the comfort of his culture to examine all sides of the questions he faces while defending his homestead and family at any cost. Zora is the long-suffering partner who knows her husband as both a hard-drinking man with a deep well of anger and a hero who will put himself at risk to maintain his responsibilities. Their oldest boy, Anthie, is in love, and, seeking more time to pursue romance, often resents his father's domination, while stolidly obeying him. Others add to the suspenseful plot creating depth and intrigue that will likely thrill readers.
Wilson's Death in the Black Patch is historical fiction at its best, melding a little- known patch of the big American picture with an exploration of one man's willingness to fight corruption, destruction, and greed with the few weapons at his disposal—weapons that include a dogged determination to do what is right.
Death in the Black Patch by Bruce Wilson won 1st Place in the 2017 CIBAs for American Western Fiction, the Laramie Awards.