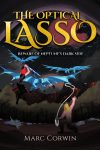 Publisher: Page Publishing Inc. (2019)
Buy the book now at:

Amazon
Author's Website
Marc Corwin's non-linear novel is jam-packed with science from the present era and over a century into the future. The wide-ranging tale of good versus evil overflows with wormholes, various iterations of the "dark side," a truly miraculous invention (the lasso), shape-shifters, creatures that would not be out of place in Jurassic Park (notably the deadly goth, bringing literal meaning to "bat out of hell"), and all manner of spacecraft. It's a veritable buffet for sci-fi devotees!
At the center of it all is Jason Cody who nearly dies from what appears to be an incurable malady before reaching his seventh birthday, when a chance meeting with a puss-spewing creature immediately turns his fortunes around. The boy genius follows in his father's footsteps into the U.S. space program and soon becomes the star astronaut. Using the science of his own invention while braving a treacherous wormhole on the way to Neptune and beyond, the incredible journey is accomplished in astonishing time, but Cody appears to have simultaneously vanished from the universe.
Along for the ride in every sense of the word, is Lieutenant Janet Miles (a.k.a., Cat), the famed leader of the Fighting Fury (an all-female rescue team taking on harrowing assignments in the 22nd century). Incredibly, she teams up with Supreme Commander Cody to break out of a torturous prison. The escape itself is almost as fantastic as the fact that her sudden partner ought to be well over a century old and is as buff as the day he hurled away from Earth.
The nemesis of nearly everyone in the book comes in the frequently altered shapes (evil incarnate predicted in the Centurions). Yet, it soon becomes apparent that this crimson entity who desperately wants to steal Cody's lasso and put it to work for his own foul intentions is also the devil that wreaks havoc on Earth. Satan's lair is the "now you see me, now you don't" planet, Vixus, fully able to change its rotation and fueled by a mysterious force.
Corwin has set himself an enormous task creating this multi-layered narrative aided by a large supporting cast filled with god-fearing troops and leaders alongside heartless liars who covet power and glory at any cost. The timeline shifts and backstory excursions, aided by the chapter headings, work very well.
Finally, the ending is bound to produce mixed reactions, but without a doubt, readers will have a devil of a time getting there.