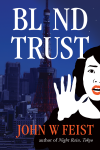 Publisher: John W. Feist (2019)
Buy the book now at:

Amazon
Author's Website
Brad Oaks and his wife Amaya have no idea what is in store when they answer a call for help from the newly appointed Japanese prime minister in John W. Feist's second novel, Blind Trust.
The year is 2022, and a mysterious explosion compromises Japan's electric grid infrastructure (LNG regasification, to be precise). Yuko Kagano's election as the next prime minister comes with the hope that she will commit to her campaign promise of restoring Japan's energy structure. However, she must first deal with the criminal activity associated with the previous leader. She needs help. She calls on Brad Oaks and Amaya Mori, his wife, for advice on pipeline and steel strategies. Amaya especially, as the two women have known one other since college, and both are heirs to familial steel companies, the American Elgar Steel and the Japanese Kanawa, respectively.
Brad Oaks gave up his lawyer career a few years back after he rescued Amaya when she was abducted due to her connections with her father's company. The two fell in love, married, and moved to California. Now, Brad is the executive vice president of Elgar Steel (Please refer to John W. Feist's first novel in the series, Night Rain Tokyo). Three years later, they receive a call from Eisuke Tanaka, the commissioner of the Tokyo Metropolitan Police, who delivers the message that Yuko requests meeting with them in Tokyo. The call couldn't have come in a more inconvenient time. Brad and Amaya are critically assessing a possible new season in their marriage: adoption. Placing their plans on hold, they fly to Tokyo unaware that they will be walking into deadly covert schemes to undermine the prime minister.
John Feist blazes a path in his approach to geopolitical suspense. Having ventured into the Japanese culture via his past professional connections, Feist understands, firsthand, the underlying and ongoing cultural tension that exists between the Japanese and foreigners in the business sector. That said, Feist's method of storytelling is not Americanized, which usually follows an often dizzying and fast-paced route. Instead, tension builds through innuendo-rich dialogue scenes between characters as he undergirds his plot with realistic aspects of Japanese culture that is rooted in "nativism" (the revival or perpetuation of an indigenous culture especially in opposition to acculturation, Merriam-Webster).
Feist does an excellent job surrounding Brad and Amaya, his principal characters, with a diverse cast of characters that range from subdued to surly. Each chapter alternates character POVs packed with a handful of red herrings and a plethora of unexpected twists and turns amid political history and the sights, sounds, and smells of a beautiful Asian country.
Blind Trust is a unique and satisfying Political Thriller that closes on a promising note of a sequel.