Listen to or download this article: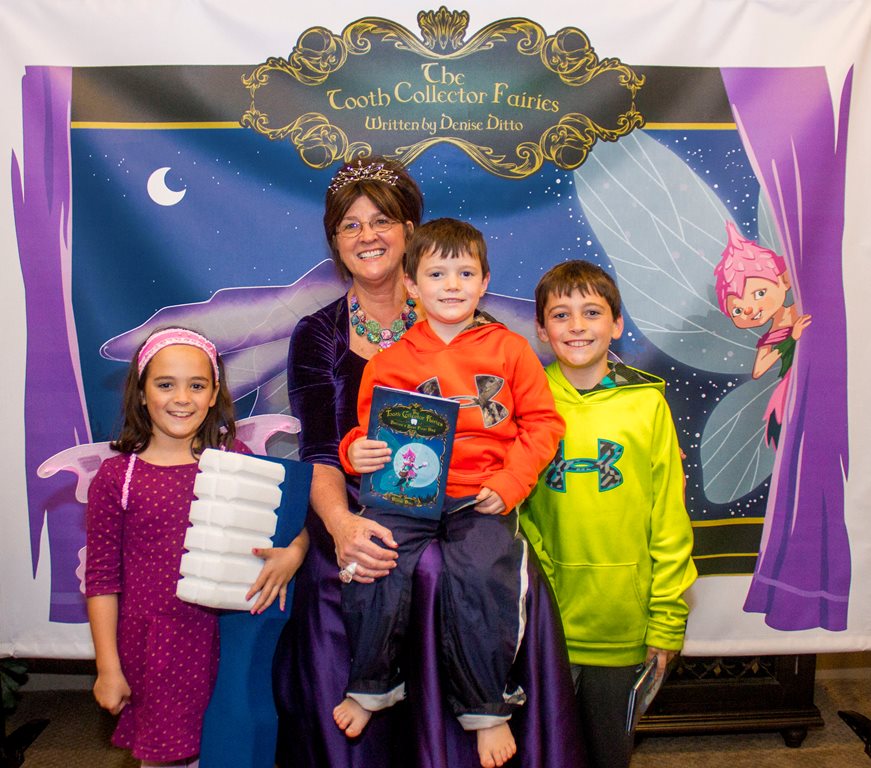 Inspiration and Going Back to the Drawing Board – the making of The Tooth Collector Series
a Little Peeps Book Awards Spotlight blog post featuring Denise Ditto and The Tooth Collector Series
Do Early Reader Books and Picture Books Require Narrative Arcs? 
The original story about Batina was intended to be a picture book.  It had 1078 words – words that I loved.  It was tentatively titled, The Real Tooth Fairy Story – What Happens to all those Teeth?  In this version, Batina did not have any unusual characteristics nor did she have any fairy friends.  The whole story centered on what happens to well-brushed teeth.  It introduced the concept that a well-brushed tooth makes fairy dust, the very dust that enables tooth fairies to fly.  Each fairy delivered a tooth to Mr. Gizmo for inspection.  All the teeth declared well-brushed were transferred to the manufacturing department.  They were placed into the Super-Duper Magic Dust-Making Machine where they underwent a magical transformation that produced canisters of rainbow-colored fairy dust – one tooth, one canister, for each fairy.   That was it.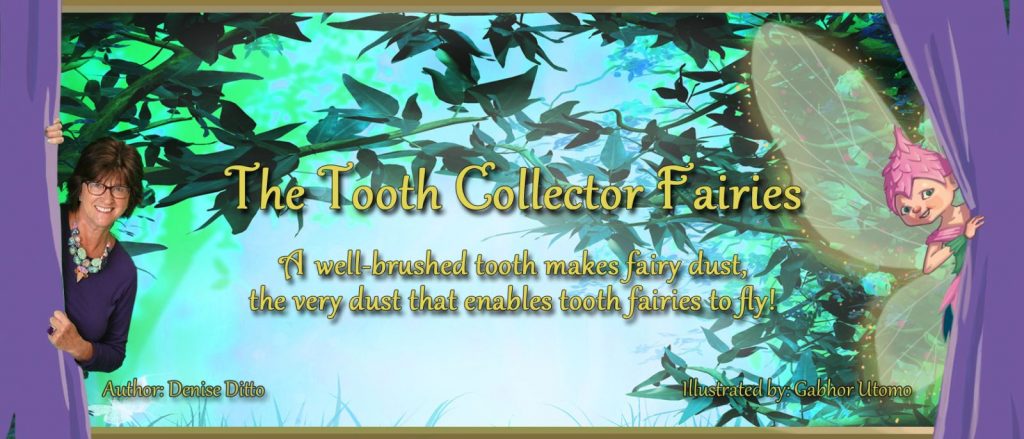 When I presented this story for a professional review, I learned that if I intended the story to be a picture book it would need to be cut in half because 1078 words were too many.  Ideally, a picture book should have around 500 words – give or take a few hundred.  The idea of cutting the story in half was more than I could handle.  Fortunately, there was a second option.  I was encouraged to increase the word count, add a narrative arc and make it a chapter book.  That was great advice – advice I decided to take.
Batina's Best First Day now has nine chapters, over 4000 words, and includes a narrative arc.  Below is the structure used to transform the original work into a chapter book.
Timeless method for making the characters in your children's book unique and interesting
In the original short version of Batina's Best First Day, discussed in an earlier blog post, Batina did not have any unusual characteristics.  When redeveloping the picture book to a chapter book I felt the need to give Batina a distinctive appearance – a feature that made her stand out from others – a feature to make her more interesting.   It was time to ponder ideas.  Here is what I came up with.
There are many children's books and movies with characters that are unique in their own way.  For example, look at Rudolph the Red-Nosed Reindeer.  You got a double dose of character uniqueness in this story.  Rudolph and his red nose.  Everyone knows that the other reindeer teased him and called him names.  And what about Hermey, the Elf.  He wanted to be a dentist, for goodness sake.  I guess it would be easy to conclude that this is where I got my inspiration considering my book has a dental element to it, as well, but I didn't.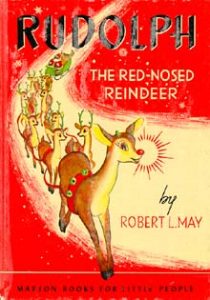 I was inspired by the story Dumbo.  I'll tell you why.
First and foremost, as a child I loved Dumbo.  But there's more to it than that.  Dumbo had large ears and people made fun of him.  With the help of his friend, Timothy the mouse, Dumbo learned how to use his ears as wings and he learned to fly.  WHAT?  Yes, an elephant learned to fly.  What an accomplishment!  Dumbo overcame his perceived defect and turned it into an asset.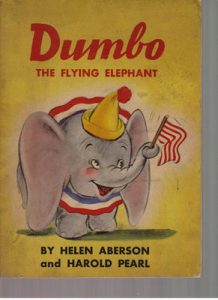 What an inspiration it would be to read about a little tooth fairy with oversized wings whose primary job was to fly. Consider how difficult would it be for her to navigate in the air with oversized wings. Consider how scary it would be to learn that she had the fear of being caught in a rogue gust of wind that could stand in the way of her completing her mission. How awesome it would be to learn that she was not deterred. My little Batina became a motivated fairy determined to do a good job no matter the obstacles. Like Dumbo, Batina overcame a perceived defect and turned it into an asset.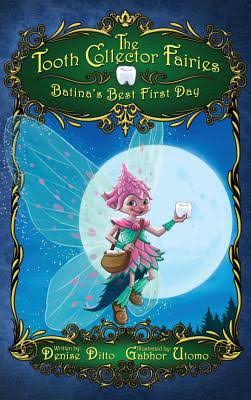 Here's the nugget – Embrace your differences because that's what makes you, YOU! And no matter your differences, you can achieve your goals.
PS – Dumbo was released on October 23, 1941. Many years later, I was born on that day, too. Another reason Dumbo was my inspiration. That's the truth.
Camelot and Tooth Fairies?
The name of the place where your children's story will take place should spark the imagination!
Brushelot is the name given to the magical land where Tooth Collector Fairies live.
You might think a name for a tooth fairy's magical land would come easy but it didn't. Originally, the name was to be Panteen – a little play on Peter Pan and Preteens. It was a wonderful name and quite clever if you ask me. However, after a handful of people read a draft of the story and said, "I thought it was going to have something to do with hair," I knew I had to make a change. It seemed the name Panteen was too similar to Pantene – the shampoo. Hmmm. Back to the drawing board.
After a long period of grieving the loss of this fabulous name, I found myself back to square one. How about Flossalot? Did you know there is a rapper named Flossalot? Really, there is. Can't use that one. Brushalot came to mind. After a Google search, I learned that name was already taken, as well.
How about simply changing the "a" to an "e" – to Brushelot? Brilliant idea. Now the question was, "Will that work?"
A Google search did not turn up any other usage of this word. Visually, the name reminded me of Camelot so I set out to research Camelot. Could there be a sensible reason to suggest a comparison between the word Camelot and Brushelot? My research revealed several interesting facts. First, Camelot, as defined by Merriam-Webster, is a time, place, or atmosphere of idyllic happiness. So far so good. Second, I found that an Arthurian scholar named Norris J. Lacy wrote, "Camelot, located nowhere in particular, can be anywhere." BINGO! I thought. This sounds exactly like the place where the tooth fairy's magical land is located. And it was declared that its name shall be Brushelot!
[Editor's note: As authors and writers, sometimes we need to go back to the drawing board aka the writing desk to work out the little bits that will make our works stronger. -kb]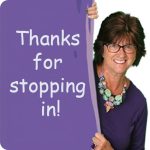 Check out Parade Magazine's article about Denise Ditto by Tamra Bolton   and how Denise is "changing the lives of thousands of children while enriching their imaginations."
To learn more about Denise Ditto and The Tooth Fairy, please visit her website:  https://toothcollectorfairies.com/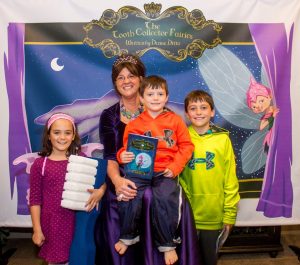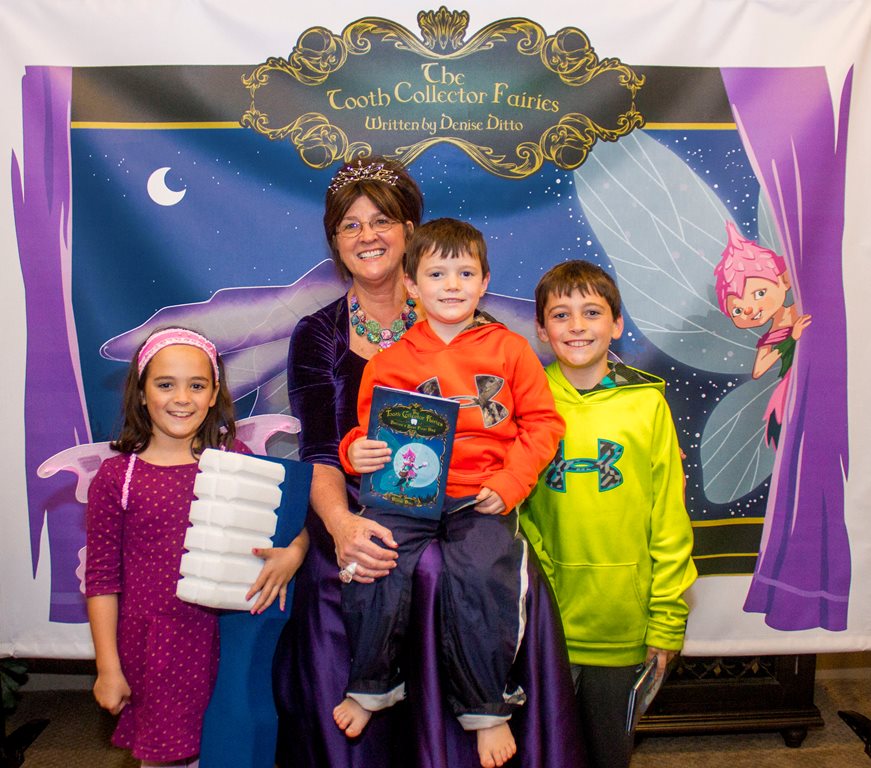 The Tooth Collector Fairies series by Denise Ditto has the Little Peeps Book Awards Grand Prize.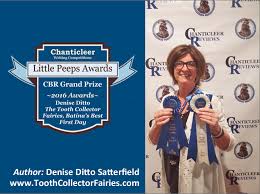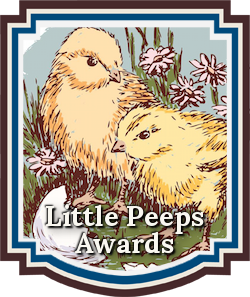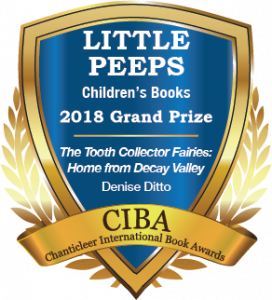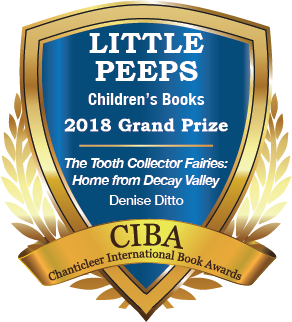 Congratulations to these Little Peeps Book Awards Hall of Fame Authors
The Tooth Collector Fairies by Denise Ditto
Yoga Fox

 

by Sylva Fae

Oscar's Christmas Wish

 

by Veronica Ruth Fischer

The Universe a Work of Art

 

by Eva Newermann

Midnight The One-Eyed Cat by Sheree K. Nielsen & Pat Wahler
Tevye the Magical Theater Cat by Peggy Sullivan
Lessons from a Cat: The Moon and Star; Midnight and Moonlight

 

by Peggy Sullivan
A Tall Tale About a Dachshund and a Pelican: How a Friendship Came to Be

 

by Kizzie Jones
Rainbow Monsters

 

by Sylva Fae
Angel on Assignment

 

by Wanda Carter Roush
Wishes and Kisses

 

by Heather Pallotta   

 

The Blue Beetle

 by Sara Dahmen

Rikki & the Rocket Twins Adventure 1: Discovering the Solar System

 by Kneko Burney

The Adventures of Frank and Mustard: Stuck in the Mud

 

by Simon Calcavecchia

The Mouse and the Mole Hill

 by Donna Washington
The submission deadline for the 2019 Little Peeps Book Awards is September 30, 2019 – midnight (Pacific Standard Time).
To enter or to find out more information about the Little Peeps, please click here: https://www.chantireviews.com/services/Little-Peeps-Fiction-Writing-Contests-Chanticleer-Book-Reviews-p58078150
The 2019 Little Peeps Book Awards winners will be announced on Saturday, April 18, 2020, at the Chanticleer International Book Awards ceremony and banquet that takes place during the Chanticleer Authors Conference that is held annually in Bellingham, Wash.