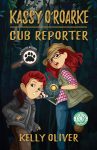 Publisher: Beaver's Pond Press (2019)
Buy the book now at:

Amazon
Author's Website
In this first installment from the new Kassy O'Roarke Pet Detective Series, award-winning author Kelly Oliver delivers a fun and engaging kid-friendly literary experience. Here is a story intended for middle-graders, Cub Reporter proves a quality blend of adventure and mystery involving a smart, inquisitive 12-year old with aspirations of becoming a spy.
As a reporter for her school paper, Kassy's hoping to nab a front-page scoop and win the honorable Thompson Award for Journalism. Unfortunately, help from her pesky, but the well-intentioned younger brother, sets in motion a roller coaster of calamities she never expected. From animal-nappings and a mixed-bag of clues to car chases and rescues from entrapment, ultimately the constant reinforcement from family, friends, and a menagerie of furry companions bring positive lessons to the forefront of this likable tale.
Kassy O'Roarke and her brother Percy, aka "Crispy," live with their veterinarian mom in the Lemontree Heights Community. Mom runs an animal clinic, along with a petting zoo. The father has moved out and is living 10 minutes away in Nashville with his new family. Since his parents' separation, Percy has developed a penchant for talking to the animals. The wacky ensemble includes a variety of rescued creatures, including a circus camel named Spitoon, Chewbacca the lab chimp, an anteater dubbed Athena, and Percy's ever-present sidekick, a flatulent ferret named Freddie who likes to steal keys.
When the 3-month old cougar cub, Apollo, goes missing, Kassy's determined to find him before he's captured by the local animal control officer, Pinkerton Killjoy. Mean-spirited "Pinky" seems determined to shut down the family's petting zoo.
Oliver creates a quirky and endearing character in young Kassy and tells the story from her perspective. With her tendency to overthink everything, the studious bespectacled loner gravitates to books, reads the dictionary to expand her vocabulary, and astutely realizes her strengths when she comments, "No one can take away the stuff in my head. My brain is my secret weapon." The pre-teen detective wannabe also tends to keep a well-stocked pocketed "spy vest" on hand, complete with various accouterments of the trade.
Within a modern-day framework, Kassy is a sensitive and vulnerable individual who worries about her mom, longs for her dad's love and approval, and is always willing to take risks (even at the chance of being grounded for a year) to garner the greater good. Kassy is surrounded by a vibrant and colorful cast of characters, including future stepsiblings, classmates, and neighborhood locals that help fuse the story with themes of friendship, loyalty, and honor.
The frantic search for Apollo keeps the action moving at a steady, well-conceived pace. Smart questions and a trail of riddles will draw readers into the investigative mode, while details that hinder Kassy's probe, (from wild thunderstorms, gushing rivers, and blocked exits, to nosy receptionists, a cacophony of barking dogs, and conflict with Killjoy) all lead to twists and turns and a heightened rush of adrenaline.
While pawprints form a corner framework on chapter title pages, a scattering of black & white illustrations provides a quick artistic reference for happenings throughout the narrative. The drawings are essential, and easily capture the intended humor, whether in the antics of undie-clad animals at a birthday party, or the central heroine dowsing a mustachioed villain with glue. Oliver continues to render this strong sense of middle-grade humor with the lively and conversational dialogue where unlikeable characters are labeled as "deviled eggs," and expletives of frustration are shouted in G-rated profanities of the "Shrimp and grits!" variety.
Amidst popular classics like Emil and the Detectives and the resurgence of the Nancy Drew mysteries, Oliver has hit the mark with this bright and entertaining series opener. Though geared toward a younger audience, readers of all ages can look forward to more investigative capers on the horizon featuring the creative escapades of Kassy and company. Highly recommended!