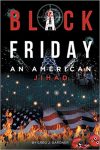 Publisher: Page Publishing, Inc. (2019)
Buy the book now at:

Amazon
Author's Website
Art imitates life and life imitates art. When Greg J. Gardner was writing his highly suspenseful novel, Black Friday, An American Jihad, the mass shooting at the Walmart in El Paso had not yet occurred. Taking place on Labor Day weekend, the shooter knew the store would be filled with people taking advantage of sales on school supplies as students prepare for the first day of class. Customers and their children became targets as the store was turned into a carnage-filled scene.
Why is this relevant? In Gardner's book, scenes of mass violence take place in many Walmart stores in the United States on the busiest shopping day of the year, Black Friday. The killers, in this case, however, aren't American; they're 50 jihadists who have been training for years for a series of precisely timed and sequenced attacks that will result in the deaths of thousands and derail American life in a manner never seen before. Just when people think the attacks have stopped, they'll begin again at other retail locations.
This is a story with nuance. The author considers the critical questions of why and how this jihad was undertaken. He avoids fairytale extremes of good and evil and delves into the harrowing events that produced an assassin, a mastermind able to motivate a team of men to turn Black Friday into "Bloody Friday."
The media barely has time to digest the latest attack before the next shooting rampage occurs. Stores become war zones, but the United States has no defense in place because only the terrorists know when and where the next attack will take place. The hours roll forward, and Americans continue to be perfunctorily slaughtered. An assembly line of meticulous mass scale murder is underway.
Chaos begets chaos. In this era of immediate reporting on social media, Facebook declares, "We cannot allow these images to propagate through our platform." Twitter and Snapchat agree while Instagram crashes, and YouTube shuts down its servers. Walmart stores across the nation close. Vigilantes attack mosques, American gangs attack each other, and looters are on the prowl. ATM machines run out of money, and thousands of businesses close.
The National Guard is deployed, and the President eventually declares Marshall Law. With their liberties curtailed and life essentially shut down, the only thing left for Americans to do is watch CNN, a reporter now one of the most important people in their lives. America is no longer the country its citizens recognize, and it all happened so quickly.
This is a fast-paced, heart-pounding narrative in which we meet many characters, most only briefly. There are poignant moments of would-be heroism cut all too short but also a few genuinely bright spots in a reign of terror.
Gardner notes in the epilogue that he, of course, hopes his book will never be a reality. Nonetheless, this is a novel that will stay with you, that you'll think of as you're shopping, as you're noticing a security guard in a parking lot, and certainly as you're watching the evening news. Once you've been taken to the brink and given a glimpse of what could be, the concept of safety itself is in question.