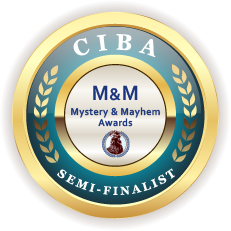 The M & M Book Awards recognize emerging new talent and outstanding works in the Cozy and Not-So-Cozy Mystery & Mayhem fiction genre.  The Mystery & Mayhem Book Awards is a division of the Chanticleer International Book Awards (The CIBAs).
Chanticleer International Book Awards is looking for the best books featuring "mystery and mayhem," amateur sleuthing, light suspense, travel mystery, classic mystery, British cozy, not-so-cozy, hobby sleuths, senior sleuths, or historical mystery, perhaps with a touch of romance or humor, we will put them to the test to discover the best!  (For suspense, thriller, detective, crime fiction see our Clue Awards)
These titles have moved forward in the judging rounds from SLUSH pile to the 2019 M&M Book Awards LONG LIST to the M&M Shortlist and have now advanced to the M&M Semi-Finalists positions. Semi-Finalists will be recognized at the 2020 Chanticleer Authors Conference and the 2019 CIBA banquet and ceremony. The First Place Category Winners, along with the CIBA Division Grand Prize winners, will be selected from the 16 CIBA divisions Semi-Finalists. We will announce the 1st Place Category winners and Grand Prize Division Winners at the CIBAs Banquet and Ceremony on Saturday, April 18th, 2020 at the luxurious Hotel Bellwether in Bellingham, Wash.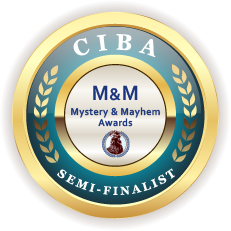 Congratulations to the 2019 Mystery & Mayhem Book Awards for Cozy and Not-So-Cozy Mysteries Semi-Finalists
Susan Z. Ritz – A Dream to Die For
Michelle Cox – A Veil Removed
Lucy Carol – Hit That, Madison Cruz – Mystery 4
Mollie Hunt – Cat Cafe
MJ O'Neill – The Corpse Wore Stilettos 
JL Oakley – Hilo Bay Mystery Collection
Kate Vale – Fateful Days
Henry G. Brinton – City of Peace
Kaylin McFarren – High Flying
Janet K. Shawgo – Legacy of Lies
Kari Bovee – Peccadillo at the Palace
Kari Bovee – Girl with a Gun – An Annie Oakley Mystery
M. J. Simms-Maddox – Mystery in Harare
Carolyn Haley – Killer Heart
Wally Duff – bada-BOOM!
Arlene McFarlane – Murder, Curlers & Cruises
Jean Rover – Ready or Not
Mary Seifert – Titanic Cocktail
M. K. Graff – Death at the Dakota: A Trudy Genova Manhattan Mystery
Toni Kief – Mildred In Disguise With Diamonds
Anna Castle – Moriarty Brings Down the House
Vee Kumari – Dharma, A Rekha Rao Mystery
Lori Roberts Herbst – An Instant Out of Time
Alexandrea Weis with Lucas Astor – Blackwell
Anna Castle – Moriarty Brings Down the House
D. J. Adamson – Let Her Go
Linda Hughes – Secrets of the Island
Jane Willan – The Hour of Death
Gerard Shirar – When the Rules Don't Apply
Susan Lynn Solomon – Writing is Murder
Good luck to all as your works move on to the next rounds of judging.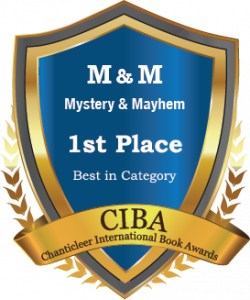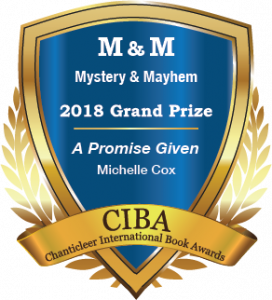 The M&M Grand Prize Winner and the Five First Place Category Position award winners along with the previously announced Semi-Finalists will be recognized at the April 18th, 2020 Chanticleer International Book Awards Annual Awards Gala, which takes place at the Chanticleer Authors Conference that will be held in Bellingham, Wash.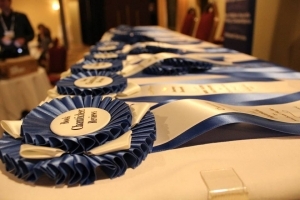 We are now accepting submissions into the 2020 Mystery & Mayhem Book Awards.