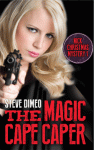 Publisher: Silver Leaf Books (2017)
Buy the book now at:

Amazon
Author's Website
A lighthearted, modern reimagining of the classic dime detective novel, The Magic Cape Caper is an assemblage of fun pop culture references in a contemporary setting.
A former police detective, and a newly licensed private eye, Nick Christmas is hired by Mrs. James, the wife of scientist and inventor of an invisibility device, Dr. Bert James. She refuses to believe the conclusions of the police who believe Dr. Bert is dead after an apparent kidnapping. With no other cases and a dwindling case-flow, Nick and his young "Girl Friday" receptionist Miranda "Randi" Degrotti accept the challenge to get to the bottom of what is going on.
A former English teacher, Author Steve Dimeo keeps a very lighthearted and upbeat tone throughout the novel and makes for a rather easy read. But, he also makes use of a sophisticated vocabulary that will have most of us crack open a few dictionaries.
The natural chemistry between Nick and Randi is one of the more entertaining qualities of The Magic Cape Caper. It will likely be a defining presence in future installments of the series. As individual characters, they struggle to branch away from being classic characterizations. Nick is the wise-cracking detective and middle-aged male who can't help but fixate on the female body; while his beguiling Girl Friday, Randi, "the blonde bombshell" surprises Nick with her ability to be a tough and intelligent woman.
For those seeking a fun and lighthearted private-eye stories (Moonlighting and Castle fans take notice), The Magic Cape Caper delivers.
Pop-culture references from past generations permeate the work. When Nick makes these, it is a positive and endearing character trait. However, perhaps the author should reconsider having the younger characters render the same references when they are clearly out of context unless they are immersed in it as a sub-culture, which could happen if the backstory was woven in. In the thinly veiled crime/romantic comedy PI series, Castle, this was done with aplomb with the episode on Steampunk Culture (Punked).
In almost every chapter, the literary form of the male gaze is prevalent. Frequently, Nick has to take note of what Randi is wearing and how attractive it makes her look. It is even canon within the novel that Nick hired her because of her looks and how he could use them to his advantage in investigations, while her education and other skills were a surprising bonus.
The Magic Cape Caper has a lot of heart, and the series has the potential to develop characters that become a favorite for devotees of smart but goofy and fun "detective" series that have a touch of romance in the air.