Listen to or download this article: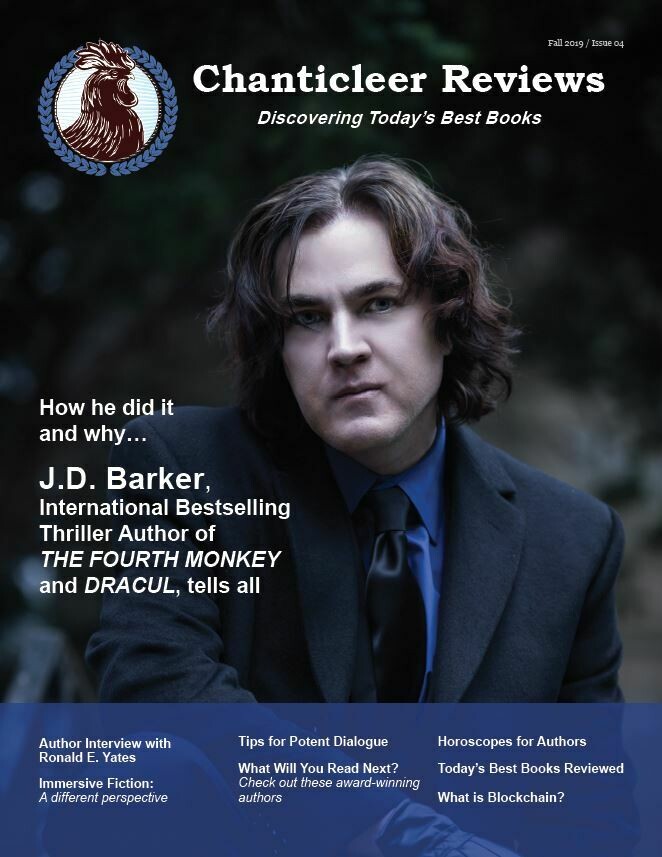 We are excited (thrilled to be truthful) to announce that the Chanticleer Reviews magazine Fall Issue 2019 has been printed and available for purchase in print and digital e-zine!
The first reviews are of the magazine are in!
"The new glossy Chanticleer Reviews magazine looks great—keep up the great work!"  – Sarah Stamey, author of the award-winning Ariadne Connection. 

"I just got my copies [Chanticleer Reviews magazine] today. They are fantastic!" –Peter Greene, author of The Adventures of Jonathan Moore historical fiction series.

"Ah, I think I am going to cry. Thank you. The review of The Jøssing Affair is amazing! Merci bien."  – J. L. Oakley, award-winning author of historical fiction.

"The magazine looks great!" – J.D. Barker, Master of Suspense and international best-selling author of the Fourth Monkee Thriller series

"I got my magazines…the magazine looks great!" – Ron Yates, CIBA Grand Prize winner for his Bill Battles series and Dean of the College of Media and Professor Emeritus of Journalism at the University of Illinois.

"This is so exciting to see the Chanticleer review of The Last Outrageous Woman in print in such a gorgeous magazine. Thank you!  – Jessica H. Stone
The magazine is a glossy full vivid color publication that is locally printed here in Washington State with the latest in printing technology.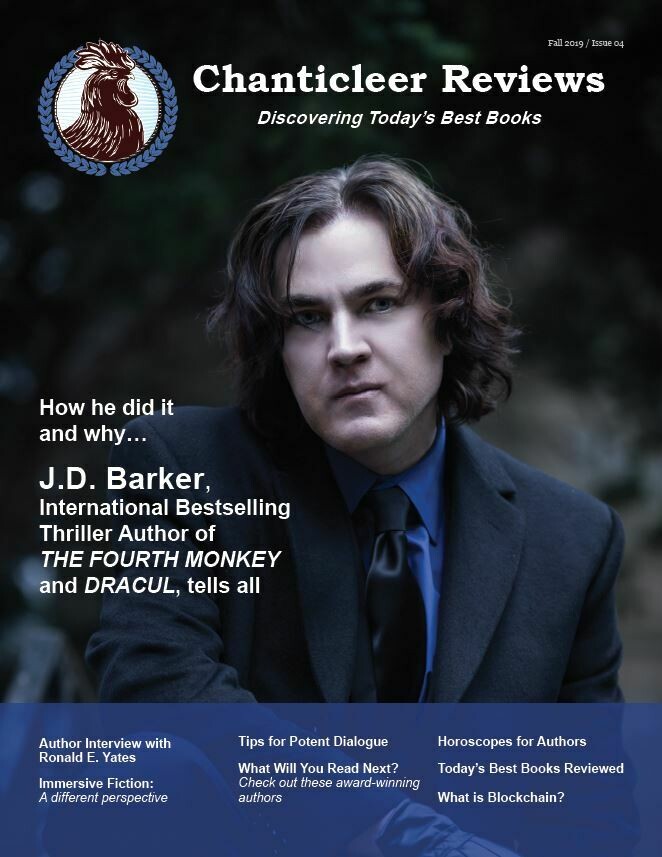 The Fall Issue features: 
A "tells all"  interview with J.D. Barker, the international bestselling suspense author
Tips for Potent Dialogue by Jessica Page Morrell, Top-tiered Editor
Horoscopes for Authors by Carolyn Leeper
Photos from Chanticleer Authors Conference 2019
Showcasing of the 2018 CIBA Grand Prize Winners and First Place Winners for all 16 divisions
An in-depth interview with Ronald Yates,

 a former foreign correspondent for the

 

Chicago Tribune

 

and Professor Emeritus of Journalism at the University of Illinois where he was also the Dean of the College of Media and 2018 CIBA Grand Prize winner for Best Book (and series), The Billy Battles series.
More than 70 book reviews
SPECIAL INTRODUCTORY RATES are available!
And to celebrate the first print issue, we are paying for postage for all orders within the U.S. 
OR
Order from Bookchain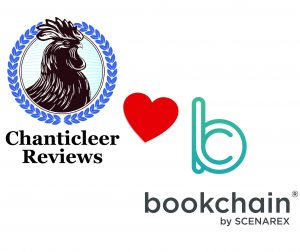 OR
BEST INTRODUCTORY DEAL – Subscribe for ALL FOUR ISSUES (the current Fall Issue, Winter, Spring, and Summer issues) and you will also receive the digital access codes for each of the quarterly e-zines for only $48 dollars – including postage for shipping within the USA and remember FREE access to the digital editions.
We will email you the code once we receive your annual subscription order for $48 for 4 quarterly issues starting with FALL 2019 (The special introductory rate includes postage within the USA and Free Digital Downloads).
Don't miss an issue! Fall,  Winter, Spring, and Summer issues of the Chanticleer Reviews magazine! Subscribe today! 
This introductory offer will end soon…Don't delay!
And Another  Exciting ANNOUNCEMENT
The Chanticleer Reviews Magazine will include:
Each issue of the Chanticleer Reviews Quarterly magazine will have a section dedicated to the Chanticleer Author Event Calendar! Each event listed will also be promoted on Facebook and Twitter prior to the listed event date.
These special ad rates are for Chanticleer AUTHORS only so they can promote their:
Books & Author Brand
Launch Dates of Titles
Author Events & Book Signings
Virtual Social Media Events
Promotions and Sales Events for Titles
New Releases with COVER and Order Info
Non-profit Book Events Participation
Sneak Previews
The Author Event ads in the magazine are 1/6 of a page and Horizontal Format 4.75" w x 2.25" h and may include covers, logo, or graphic. Full Color. 
These Author Event Calendar Spots are $50 without links in the digital format or $75 with links in the Digital Format. The spots are limited. Don't Delay.
Reserve Yours Today!  We will sell out of spots at this special low rate.
---
Get Your Chanticleer Reviews magazine in time for the Holidays!
You know you want one for your coffee table, your writing lair, and buy five copies for your mother (hat-tip to Dr. Hook and the Medicine Show's "Cover of the Rolling Stone").
Click here for more information or to order your copies of the FALL ISSUE  ($11.99) or SUBSCRIBE to the CHANTICLEER REVIEWS magazine today ($48 and includes digital access) and take advantage of our free postage for all USA addresses and APO addresses.
Click here to subscribe to the digital Chanticleer Reviews magazine — only $3.99 an issue.
To SELL Chanticleer Reviews magazine in your bookstore or retail store, please email Kbrown@ChantiReviews.com for wholesale prices.
As always, please do not hesitate to contact us at Chanticleer@ChantiReviews.com with any questions, concerns, or suggestions!
Now, this is something to CROW about!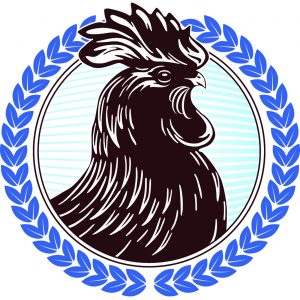 Thank you for your support! The Chanticleer Team