Listen to or download this article: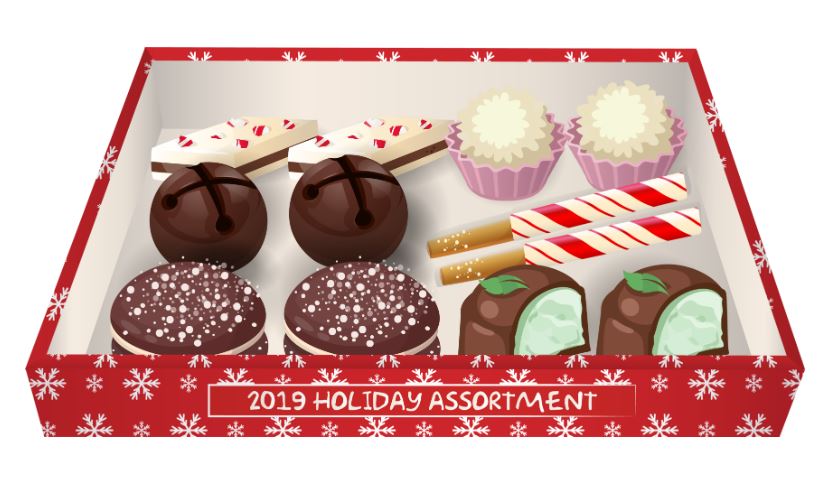 And these stories are available to listen to at your convenience and just in time for the Holidays. And they are FREE to enjoy! 
Perfect to listen to while wrapping presents, baking cookies, and preparing for the Holidays!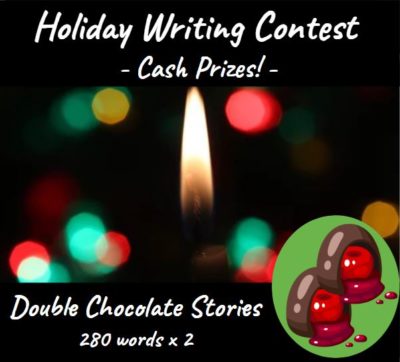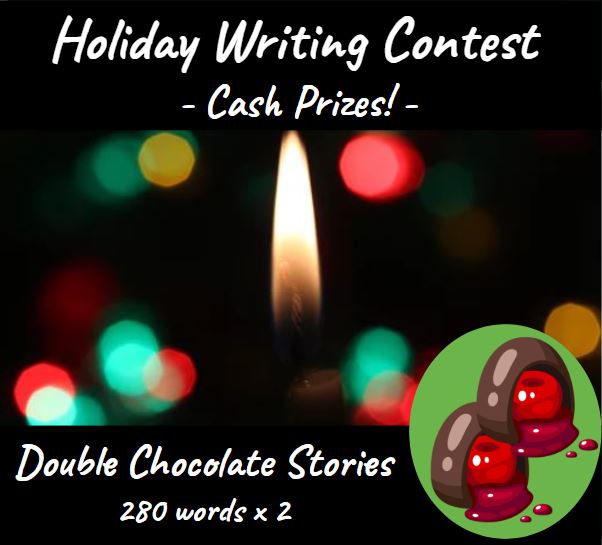 This Tellable Box of Chocolates writing contest challenged authors to write a "double chocolate" story for the Holidays using the Tellables voice app on Amazon Alexa.
A double chocolate story is a bite-sized 2-part tale, with each part represented by a piece of delicious (virtual) chocolate.
The authors were also asked to write in the voice of a virtual chocolatier and add "conversational elements" to their story. After all, the whole point of these chocolate stories is to engage listeners as they interact with an Amazon Alexa smart speaker (or other Alexa-enabled device).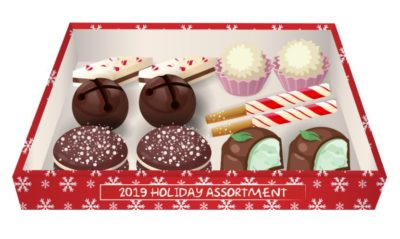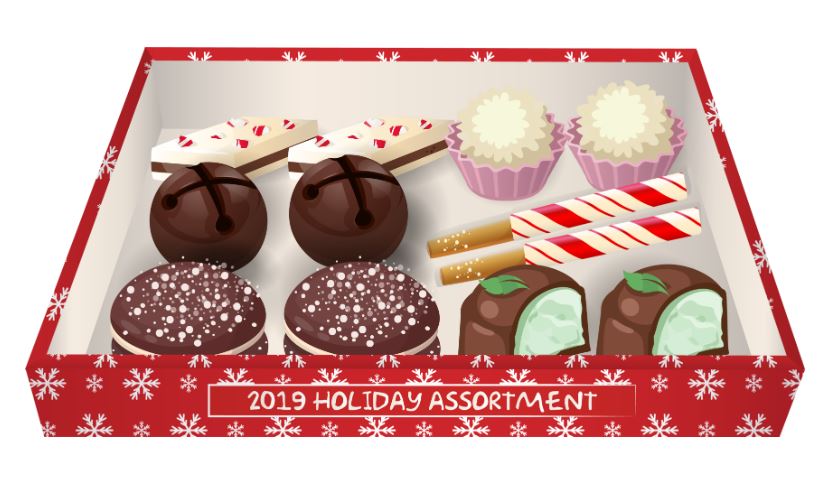 They are

pleased to announce the winning authors and their Holiday Box of Chocolate stories.
Holiday Double Chocolate Stories
It's finally here! A delicious box of a dozen virtual candies with matching double chocolate stories! In case you missed the big news, here are the winners of our Holiday Writing Contest. All of their delicious 2-part stories are featured in this holiday assortment.
Michelle Rene – First Prize for White Chocolate Peppermint Bark
A young boy keeps returning to the chocolate shop in search of a treat for a very picky Santa. But what's really going on?

He said he didn't think Santa liked the last candy either. Maybe he's allergic.
Michelle Rene is a multi-award-winning author of historical and speculative fiction. Her novel, Hour Glass, was named Chanticleer Review's Overall Grand Prize for Best Book of the Year.
Ellen Lyons – Second Prize  for Timely Mint Twist
A last-minute holiday order, missing ingredients, and a roaming cat all combine to spell disaster for a frazzled chocolatier.

"Haste makes waste is not just a rhyme, it's a reality."
Ellen Lyons is a writer, poet, illustrator, and reader. She has previously published stories in the supernatural horror   False Key fantasy series She also writes in many different genres for both children and adults. [Editor's Note: We don't believe that Ellen Lyons is a Chanticleerian, but we welcome her.]*
Kelly Abell – Third Prize  (Tied for 3rd Place) for  Peppermint Bonbon Miracle
A candy maker faces a devastating loss of business one holiday season, all because two sisters are having a spat.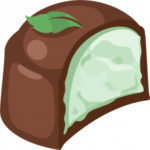 "On Saturday, a week before Christmas, I stared out at the barren street."
Kelly Abell is the author of internationally best-selling romances and romantic suspense. Her characters are filled with passion, power, and purpose in predicaments that keep a reader turning the pages. Currently, her work The Gamble: Lost Treasures has been Shortlisted for the 2019 Laramie Book Awards for N.A. Western Fiction, a division of the Chanticleer Int'l Book Awards.
PJ Devlin – Third Prize  (Tied for 3rd Place) for Snow Chocolate
A chocolatier receives a strange visit to her shop shortly before Christmas, but the visit turns out to be especially auspicious.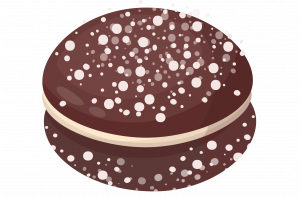 "Once outside I was greeted by an entire row of unsightly smudges, three-feet high, lining my shop window."
P.J. Devlin is an award-winning novelist and short-story writer. She lives in Northern Virginia, but her heart and stories are rooted in Philadelphia. Follow her on Facebook at PJ Devlin Author. She has won several Chanticleer Blue Ribbons!
Chris Rasmussen – Judge's "Originality Award" for Jingle Bell Bonbon
A young ambitious chocolatier runs afoul with a local judge, but she perseveres in her attempt to win a holiday sweet stakes challenge.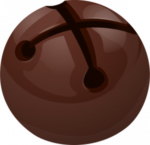 "I circled the date, rolled up my sleeves, and did my Thanksgiving homework."
Chris says he is doomed to scribble and that his loose vowels are heard daily, in Sweden, where he keeps his pencils. His work has been Shortlisted for the CYGNUS Book Awards for Science Fiction, a division of the CIBAs.
Veronica Fisher – Honorable Mention for Snowball Delight
Brandon steps out of his chocolate shop on a wintry night before Christmas and gets a surprise.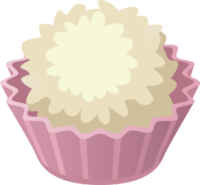 "As I walked to the door to lock up for the holiday, I noticed a rustle in the small snowdrift outside my shop."
Veronica Fischer has a passion for telling stories. Living and working in Las Vegas in the world of fundraising, her storytelling skills are used to help spread the message about the importance of giving back to her community. In her spare time, she enjoys writing for younger audiences and published her debut children's book, Oscar's Christmas Wish, that took home a Chanticleer Blue Ribbon.
How to Listen to these Stories on your Alex-enabled device?
It's easy peasy!
To experience this box of conversational stories, make sure to enable the skill by saying "Alexa, enable My Box of Chocolates."
After you enable the skill on your device, you can simply ask Alexa to "Open My Box of Chocolates" whenever you have time to relax and enjoy a bite-sized story.
Any Alexa-enabled device will work, including Echo, Echo Dot, Echo Show, free Alexa App, Fire Tablet, and Fire TV. The stories are also great to share with friends and to listen to with the kids!
What's New at Tellables?
In this assortment, Tellables is excited to present Alexa's brand new storytelling voice. The team at Amazon has very recently released several new speaking "styles" for Alexa, and we've found the new "music / DJ" style to work very well for storytelling. Give the stories a listen and let us know what you think!  
What's New at Chanticleer? 
Paul Cutsinger,

Head of Amazon Alexa Code Labs, will present sessions and keynote at the 2020 Chanticleer Authors Conference. 
Why Voice Enabled Technology is Here to Stay 

The Publishing Industry and Voice Technology

StoryTelling and Voice Technology

Audiobooks and Voice
Amazon Alexa and Voice Assistants – Why You May Want to Give It a Chance
We often hear authors say they don't have a smart speaker and they don't trust them. We understand. But smart speakers and voice assistants are growing tremendously popular. Now's the time to begin experimenting with the possibilities.
You might have access to an Alexa-enabled device and not even know it. Alexa isn't only available on an Echo, Echo Dot, or Echo Show. You can access the Alexa voice assistant from most newer model Kindle Fire tablets, from your Fire TV, and from the Amazon Alexa or Amazon Shopping mobile app. The common requirement is that you need to be logged in with an Amazon account.
There are more than 100 million Alexa devices in use and that number is growing daily.
The future of publishing is in Voice-Enabled Technology! Voice-driven content is the New Media Publishing World.
And Tellables will be joining us at CAC20 and teach sessions on voice-driven content! 
And, yes, I am a proud Mother Hen! – Kiffer, Head Hen at Chanticleer Reviews & Media.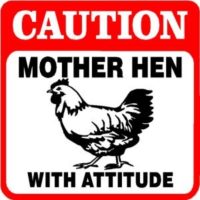 The next Tellables' Writing Contest will be announced after New Year's Day on Chanticleer's website as soon as we know the deadline and topic. So, stay tuned!
This is a great and fun way to experiment and learn about this leading-edge technology – and win some cash-ola too! 
As always, please contact us at Chanticleer@ChantiReviews.com with any questions or concerns or, more importantly, suggestions. We would love to hear from you!