Listen to or download this article: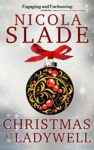 Publisher: Crooked Cat Books (2019)
Buy the book now at:

Amazon
Author's Website
Christmastime in the English countryside, what could be cozier? Nicola Slade casts a charming spell on the reader with her novella, Christmas at Ladywell, A Time for Secrets. The main character Freya Wellman, jolly with the holiday spirit, has much to do to ready her ancient home, Ladywell, for yuletide guests. She happily juggles tasks to ready an adjoining cottage for a visit from a famous American actor and his girlfriend. Freya also cares for her small daughter, Violet, and visits with friends and an interesting assortment of townspeople. Most eagerly, she awaits the arrival of her smart and funny husband, a successful scriptwriter who's been in America working on a film with the actor.
It's a busy, festive time, and the reader is more than happy to witness all this gaiety at Ladywell. Of course, that name invites inquiry, one answered by stories that are nestled like Russian dolls in this exquisite book. Freya's ancestral home is brimming with secrets and enchantment conjured over centuries. While Freya isn't visited by the ghosts of Christmas past, present, and future, the reader is treated to three fabulous historical tales that chart the experiences of previous inhabitants of this wondrous place of potent, healing waters, invisible flowers, and a legendary, loyal hare.
Whether it's 1390, 1543, 1825, or the present day, there's a mystical sisterhood at Ladywell that bridges time, a linking of strong women who tend home and hearth and pass on the secrets of the land. The past re-emerges into the blissful bustle of Freya's current life as she learns of a family connection with King Richard III. Is this connection tied to a future event? Will the secrets of the past travel to the future?
With the loveliest prose and sharp humor, Slade offers the best Christmas gift for her readers with this gem of a book. Those who read her prior work, The House at Ladywell, will undoubtedly want to read Christmas at Ladywell, but this novella also works marvelously as a separate book. So, put the kettle on, get comfy by the fireplace, let the cat snuggle on your lap, and settle in for a cheerful read that befits the season!