Listen to or download this article: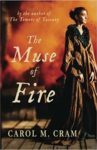 Publisher: New Arcadia Publishing (2018)
Buy the book now at:

Amazon
Author's Website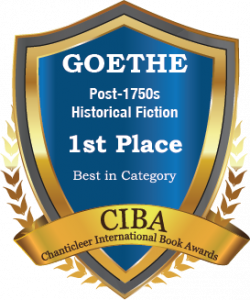 Grace Johnson dreams of a life bigger than the one expected of a woman in the early nineteenth century. At twenty-two, she should be hoping for marriage and a home of her own. Instead, after a childhood spent privately acting for her mother, Grace secretly longs for a life in the spotlight, a place on a London stage, embracing the roles of Shakespeare's greatest heroines. Alas, she fears her dream will never come true. Not only is Grace overly tall, clumsy, and what some would call plain, her father, a harsh man, blames her for her mother's death. When his temper and drunkenness cause him to beat Grace, she finds herself alone on the dark streets of London's theatre district, where a young man named Ned Plantagenet rescues her.
Ned, a stage manager at the Theatre Royal in Covent Garden, gives Grace a place to stay, and as their friendship grows, he takes her to a play, a rare event for the woman who has only seen one other play years ago. When she fills in for an absent chorus girl one night, she knows this is where she belongs and defies her father by begging her estranged aunt for a place to stay. However, the more time spent with her newfound theater family, the more Grace realizes her mother and aunt had a strange connection to the cast and crew. Questions emerge. In this world where women's dreams have little agency, Grace must decide just how far she is willing to go to build a new life for herself.
Perhaps the most striking trait of Grace Johnson is her willingness to accept the stigma associated with acting in the early 1800s. Though better than in centuries past, the theatre atmosphere was considered morally corrupt for women, even married ones. This world of impassioned men playing daring roles sure to seduce even the most hard-hearted of women often led to unwanted pregnancies and homeless girls and Grace isn't immune to the charms of one such rogue. Grace is well aware of what society might say about her, but that won't stop her now. She makes her way on her own terms, doing what she must to continue acting even following her father's disownment and her somewhat forced marriage. When her first acting performance flops, she licks her wounds then forges ahead.
This optimistic-survivor attitude isn't particular to Grace alone, though. Both Mr. John Kemble and Ned exhibit the same trait. Mr. Kemble, renowned actor and owner of the Theatre Royal, knows he must find a way forward when fire destroys his precious theatre. Kemble begs and borrows to finance a new building, one that's larger than any other theatre in England and later stands firm against the raging crowds rioting in every theatre. Ned understands that 'he can't change what [he] can't change' and refuses to mourn his lowly birth in the Foundling Hospital. This broad-shouldered, gentle giant rose from an orphanage to become the right-hand man of Kemble, a staple in the wings of this successful company. He is like everyone's big brother, protective and watchful, a "white knight," showing his bravery during the OP Riots and his pure heart caring for Grace in her hour of need.
This sprawling historical fiction takes the reader spinning through time with a cast of real-life stars of the London theatre in the early nineteenth century. The fictional characters interweave through the true story of two significant fires in the theatre district and the "Old Price" Riots, which disrupted theatre-goers and actors for months. Readers will see what life was like for the actors of the day as well as the average patron.
The Muse of Fire won 1st Place in the CIBA 2018 GOETHE Awards for Late Historical Fiction.