Listen to or download this article: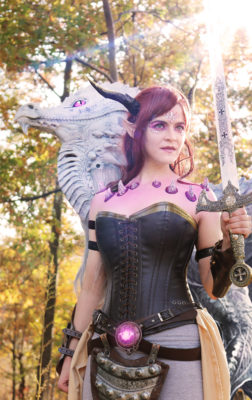 Elana A. Mugdan is an author and screenwriter based in New York City. She has received many accolades in the film industry, including a number of awards for her feature-length comedy, Director's Cut. In 2015 she stepped away from film to focus on her writing career, and in 2016 her debut fantasy novel, Dragon Speaker, was released in the UK via Pen Works Media.
For the past two years, Elana has devoted her time to traveling across the country on book tour. She has appeared at schools, libraries, and bookstores nationwide to talk about her award-winning series, The Shadow War Saga. Her second novel, Dragon Child, launched in May 2019 at the Union Square Barnes & Noble, the world's largest bookstore. Her third novel, Dragon Blood, is slated for release in March 2020.
 
Recently, Elana garnered acclaim and media attention for her year-long stint without use of a smartphone. In a contest sponsored by Coca Cola and vitaminwater, Elana agreed to forego use of any handheld scrolling technology for 365 days. She found the experience liberating and enlightening, and has done a series of talks on the subject.
Here is her interview on the Today Show – "Vitaminwater in December launched a nationwide contest looking for one person to go one year without a smartphone in exchange for a $100,000 prize. The brand selected Elana Mugdan, a New York-based author who joins TODAY to talk about the challenge."
https://www.today.com/video/meet-the-woman-giving-up-her-smartphone-to-win-100k-1445408835921
Elana currently resides in Queens, living a quiet but eccentric life with her pet rescue snake, Medusa.
Elana is presenting and participating in the following sessions at CAC20
How to make your own audiobooks — by an author who did! (with Hindenburg) From set-up to ACX upload
KaffeeKlatch Round Table Discussion — The Scroll Free Life  (Writing Life) Her experience with the vitaminwater challenge and how it fits with her promotional strategy
Promotional Strategy for Your Books and Your Brand
Beta Readers & Revisions – writing craft session
Film and Authors – panel (this panel is coming together)
Don't delay. Register Today! For the Chanticleer Authors Conference – held September 4-6, 2020. There are five different registration packages available so you can choose the one that is right for you!  For more INFO, please click here: https://www.chantireviews.com/chanticleer-conference/
To register, please click here: https://www.chantireviews.com/services/Conferences-&-Awards-Banquet-c9758702
To check out the Master Classes, please visit this link: https://www.chantireviews.com/master-classes-and-workshops-for-cac20/