Listen to or download this article: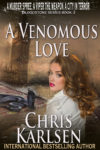 Publisher: Books to Go Now (2020)
Buy the book now at:

Amazon
Author's Website
Detective Rudyard Bloodstone is facing the most bizarre crime spree of his career as a copper on the Victorian streets of London. Someone is using a poisonous Cape cobra as a weapon.
What begins as a simple robbery scheme turns deadly when a wealthy businessman is killed via cobra attack, the crimes go from strange to deadly. Rudyard (Ruddy) and his partner, Archie Holcomb, have few clues and no idea what would cause such a change in the criminal's behavior.
When the criminal returns to the estate and attacks the victim's daughter, Ruddy's suspicions are confirmed. With Jack the Ripper still fresh on the minds of every citizen, Ruddy and Archie must locate this criminal quickly or risk the ire of their supervisor and the shame of losing the case to Scotland Yard. But with no clear understanding as to why the victims were targets, no idea of the killer's identity other than obscure reports of his scarred appearance, and a weapon capable of killing with a single bite, Ruddy faces one of his toughest, deadliest mysteries to date.
The strong characterization of Karlsen's cast shines brightly within this third edition to The Bloodstone Series. Rudyard Bloodstone, a Holmes-Esque protagonist, has an intuitive "ability to read people and [an] acuity at measuring their nature." An adept sketch artist and survivor of the Zulu wars, he is more than a talented detective. This no-nonsense former soldier isn't in the habit of apologizing for doing his job – or his methods – regardless of the social rank and attitude of the Londoners who fail to respect him.
Karlsen's adept handling of the fiend and murderer, Kip Idrizi, presents an unexpected twist within the novel. His story and reasons for committing the crimes will give readers pause. Kip, an orphan and smallpox-scarred member of the lower class, yearns for a better life. With no education, no hope for betterment, and no friends, except for a cobra he rescued near the docks, he resorts to a life of crime. He hopes to "earn" enough money from "a toff with a fat wallet" to go to America and fade into the background in some small town in the West. His feelings of inadequacy, though leading to heinous acts, are directly related to how he's treated by those upper-crusters in Victorian society. In this vicious cycle, he cannot escape the jibes and insults, so he, in essence, falls prey to an unscrupulous member of that upper-class group. This situation creates a duality in the reader's feelings for Kip, where his vicious crimes war with his kindness toward a near-dead reptile and desire for a simple life of obscurity.
Class discrimination presents a significant dilemma for a number of the novel's characters. Most obviously, this difference in societal treatment affects Kip; however, it extends to the protagonist as well. The distance between the haves and have nots risks blocking Ruddy's and Archie's progress in solving their case. Will the duo overcome the pressure and prejudice of class separateness to solve the case and ensure the safety of those who would rather cross the street to avoid the detectives? As in the other Bloodstone Mysteries, readers can expect an exciting story with plenty of twists and turns. Here's a Victorian detective thriller set to chill your bones. Karlsen delivers a novel that will not be set down until the very last word is read!