Listen to or download this article: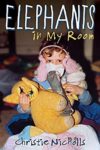 Publisher: Christie Nicholls (2019)
Buy the book now at:

Amazon
Author's Website
A bitingly funny collection of life-stories from Christie Nicholls – stand-up comedian, actor, and writer – made all the more piquant by her repeated insistence that she has no short-term memory. Fortunately for us, her long-term reminiscences more than make up the deficit.
Nicholls has divided the book into four parts. In the first, "A Broad Abroad," she recalls her experiences of traveling to far-flung places, beginning with a summer in Belém, Brazil as a child. She and her brother, for some reason nicknamed Beluga, slept in hammocks and played in a swimming pool, but much of her cherished time involved a German Shepherd named Ferdinand, from whom she learned dog talk. Raucous family bowling in Bologna, Italy, is contrasted with attendance at a staid English wedding. At a later period, Nicholls and her mother went to Sweden, where the budding comic tried her hand at stand-up in newly acquired Swedish, leading to an amusing mix-up of jargon.
"Odd Jobs" highlights employment, from babysitting to trying to sell magazines by phone and getting the ax for her admirable refusal to inveigle a woman who was going blind to buy a subscription. Nicholls' recollections of those "Dearly Departed" includes lessons learned from a singularly inspiring music teacher, and time spent with her grandparents – with the pain of watching them slowly "disappear" from failing health and dementia.
In "Boys to Man," she confesses a few of her more outstanding, and hilarious, meet-ups with the opposite sex, revealing her youthful whims and desires. The final episode, and the book's closing, is a comedy of errors that gradually reveals itself as a well-crafted salute to her partner and their quirky manner of demonstrating mutual respect.
Nicholls is a charming yarn spinner, revealing much about herself in this lively aggregation, and not all of it merely for laughs. She expresses her self-doubts and her struggles with schooling and recalls the year she did not win a prize from her music teacher. The experience of not being acknowledged for her effort spurred her to try even harder next time. Nicholls admits her many flaws in a characteristic satirical manner, almost certainly dramatized for comic effect. But poignant moments arise frequently. After feeling frustrated in her early relationship with her grandfather Poppop, who could be, and often was, sarcastic and bombastic, she took up his cause. She protected him when he became wheelchair-bound, rewarded by his beaming smiles.
Anyone familiar with the author's significant talents will be happy to learn that she can write as well. Indeed, those getting know her through this debut writing romp will want to see her show, follow her on social media, stalk her at the grocery store… well, we discourage stalking. What you will come away with is a genuine respect and admiration for Nicholls, a smart modern comedian, who brings her audience joy and quite possibly makes the world a brighter place to reside.