Listen to or download this article: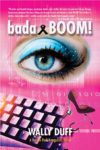 Publisher: K, M & N Publishers, Inc. (2019)
In this fast-paced, contemporary mystery thriller, Wally Duff takes readers on a wild, fictional ride with this third installment featuring the colorful and versatile Hamlin Park Irregulars. This group of playground moms and friends are at the ready to follow a fellow mom's investigative lead in the interest of revisiting her former journalism career.
Tina Thomas, a former investigative reporter who lost her job when she ignored orders issued by the FBI, is now a stay-at-home mom. Unable to resist the lure of a good story, Tina soon finds herself involved in chasing down Dr. J. Randall Fertig, a Chicago surgeon who claims he can perform an operation that cures patients of breast cancer. Having never published his techniques or results, a hospital committee has been formed to verify Fertig's work. But when a committee doctor suddenly dies in a violent one-car crash considered a probable suicide. But when a second doctor's death is listed as a suicide, Tina's instincts kick in, leading her to believe that Fertig is killing off committee members to keep them quiet. With the help of an eclectic and well-defined cast, including her playground cohorts, each with their own workable attributes and a duo of sharp and suave detectives, Tina is soon back in the thick of things. The adrenaline rush doesn't let up until a surprising climactic reveal that includes an unexpected nod to the contemporary #MeToo movement.
Duff makes efficient use of short, rapid-fire chapters that move the plot along at a steady pace. Each new reveal serves as an enticing breadcrumb on the trail of heightened drama and suspense.
Engaging characters integrate easily into the activities of the investigation, whether a computer savvy mom with her hacking skills, or the model beauty of the group who uses her female charms as "the great distractor." Two male hairstylists help liven up the mix and up the fun factor, particularly when they feel they must escort Tina out the back door of their establishment, fearing her bad hair vibe will reflect poorly on them. Another group of muscle "friends" adds assistance and intrigue with their uncanny ability to help Tina handle the details of some rather delicate situations.
Duff weaves wit and a bit of dark humor throughout, whether in the details of Tina's ownership of an unregistered glitter-covered gun that she acquired from a neighbor who "accidentally" died on her kitchen floor. Tina's calamitous antics also invite humorous Murphy's law tension. When things keep going wrong – from a cell phone going dead in the dark, to a dropped fanny pack, and a sneeze that can't be stifled – readers sense the tense, yet comical edge of this central character's mishaps.
From secret revelations and bizarre disguises to break-ins, explosions, car chases, and drug-induced deaths, Duff draws us into this modern-day tale marked by suspicious activity, creative investigation, and a colossal denouement. While the initial cancer cure premise may get a bit waylaid amidst the story's progression, the rousing action keeps readers thoroughly invested and hopeful for a resolve. A sneak peek at the next offering in this series concedes the return of a character from this medical debacle, intent on taking Tina out.
bada-Boom! ushers us into the medical world and the downfall of its profit-motivated physicians complete with struggling stiletto-wearing female drug reps and overseeing hospital boards, all pitted against one another with sometimes dire consequences. This latest smart and compelling offering is exactly what the doctor ordered – absorbing entertainment!