Listen to or download this article: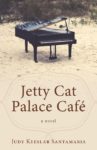 Publisher: Luminare Press (2019)
Buy the book now at:

Amazon
Author's Website
Judy Keeslar Santamaria's skillfully crafted debut novel, Jetty Cat Palace Café, takes the reader from the sophisticated urban areas of Washington state to its remote cranberry coast, accompanying professor Morgen Marín on a life-altering quest.
Like a present-day recipient of a DNA test gone wrong, when 34-year old Morgen, celebrated pianist and music professor, leaves after visiting her elderly grandmother Eleanor, her mind is spinning. Eleanor, preparing for the inevitable, shared family history, documents, and longstanding questions, which blindsided her granddaughter.
Everything Morgen believed about herself is wrong—not an uncommon experience, but still . . .
For Morgen, clarity is often elusive. She frequently misperceives the world around her. Like Alice, after she walked through the looking glass, Morgen exists in a kind of alternative universe. While Alice's experiences were novel, magical even, Morgen's are not. She lives on the autism spectrum.
Setting out with her mother's restored Volkswagen bus and the keys to a storage unit containing family papers and memorabilia, Morgen has a clear sense of purpose. She is on a single-minded journey to find her mother's stolen cremation urn, learn the identity of her biological father, and free herself from the man who has dominated and abused her for years.
Her search takes her to a remote fish camp on Washington's cranberry coast, miles away from the hectic, affluent areas bordering the Puget Sound. The cast of characters she meets are society's flotsam and jetsam who drifted in on random currents and found safe harbor in this isolated place, straight into the Jetty Cat Palace Café. With the locals' claims of the place being haunted, the café binds the motley group together with unseen ties.
How these random people, in this unlikely place, are melded into parts of Morgen's past and future creates a story that stretches readers' credulity and imagination. And, as in looking glass land, Morgen learns that things are not always as they seem, random events have meaning within their own context, and actions from the past exist as long as there is someone left to perceive them.
In Jetty Cat Palace Café, Judy Keeslar Santamaria's often lyrical, meticulous writing, engaging characters, vivid imagery, and intricate plot work together to create a winner.