Listen to or download this article: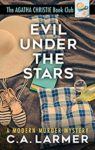 Publisher: Larmer Media (2018)
Buy the book now at:

Amazon
Author's Website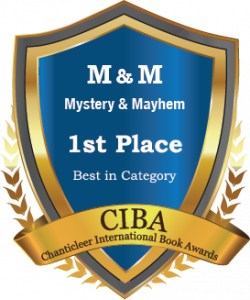 Who commits a murder in a crowd of a hundred people relaxing in a park, and how did the Agatha Christie Book Club miss the entire thing from only a few feet away? In the trendy Sydney suburb of Balmain, Kat Mumford, social media interior design star, has been murdered during the inaugural Cinema Under the Stars. Her distraught husband, Eliot, is clearly the prime suspect, but at the time of Kat's strangulation, he is nowhere near her. In fact, no one was sitting near Kat, and the crowd seems to have been so absorbed by the movie, Agatha Christie's Evil Under Sun, that no one saw a thing out of the ordinary. 
When Alicia Finlay and her book club realize the murder occurred right under their noses, there is no way they can just let the police handle it. When Alicia's boyfriend, Detective Inspector Liam Jackson, actually calls her for information, she and her club decide to do a little investigating of their own. Despite being told to butt out, Alicia, Lynette, Claire, Missy, and Perry go undercover to find the killer, but the twists, in this case, will lead them down a strange path to find a crafty killer. The club must sift through the suspects: a smarmy barman, a detestable reverend, a pregnant domestic abuse victim, a mystery mustached man, a dead junky, and a hipster hubby. With few clues but many dead ends, the club will meet their most challenging mystery yet!
This third book in The Agatha Christie Book Club series is one crazy ride. Anyone who loves a good whodunnit will adore this novel. C.A. Larmer makes it easy for readers to learn who's who in the Agatha Christie Book Club. There's Claire, the vintage clothing shop owner; Missy, the pink-haired librarian; Perry, museum PR organizer; Lynette, self-trained food blogger; Alicia, online journalist; and even the reluctant Anders, the doctor who pronounces Kat dead on the scene. They all create a fantastic cast of characters who genuinely engage the readers from the first page. Like Christie's beloved Miss Marple, the book club members are amateur sleuths who rely on a stealthy approach to crime-solving and often go undercover. DI Indira Singh, the no-nonsense, by-the-book detective in charge of the case, is not amused – on more than one occasion. The ease with which the author introduces this kooky crew of curious minds will make it simple to jump in headfirst and enjoy this fast-paced roller coaster complete with plenty of red herrings and dead ends, eventually leading to a killer who manages a daring, deadly crime in the middle of hundreds of witnesses. 
An unexpected plus in the plot is the romance between Alicia and Liam. Having just broken up with another club member Anders (creating tension among the book club), Alicia's fledgling relationship with hunky Liam experiences some bumps when she interferes with his case. Still, the respect he has in her abilities–and that of the club–adds depth to what appears to be solely a mystery novel on the surface. Liam seeks out Alicia's help, valuing her abilities, and not attempting to control her. Being the less attractive of the Finlay sisters, Alicia is often "eclipsed" by the beautiful blonde Lynette, but she never feels anything less with Liam. He makes it "crystal clear which sister he prefer[s] in his orbit." Liam even takes Alicia "on the beat" to track down would-be suspects and leads, partly because he needs her and partly because he knows she will love it. This symbiotic-style relationship is sweet in a mature way that romance readers will appreciate. In short, Larmer will delight her followers with this third installment of the series, and have new fans ordering up the first two books in no time! Highly recommended. 
Evil Under the Stars won First Place in the CIBA 2018 Mayhem & Mystery Awards.