Listen to or download this article: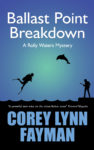 Publisher: Konstellation Press (2020)
Buy the book now at:

Amazon
Author's Website
Secrets buried at sea have a grave tendency to resurface in time. The incident happened twenty years ago. A Naval exercise has gone wrong at a rocky point near San Diego. Not just wrong, it was a complete Ballast Point Breakdown.  Butch Fleetwood participated in that Naval exercise. Butch Fleetwood was a rebel. After so many years, Butch Fleetwood is an urgent problem for P.I. Rolly Waters now, even though Butch Fleetwood is dead.
There's a well-attended party at the San Diego Bay Admiral's Club. Guests are enjoying a celebration of the Navy's top-secret dolphin divers program on the brink of its retirement, and the pending release of the trained dolphins. The sounds of music and conversation fill the air. Then the sound of a motor dominates. A speedboat traveling the Bay approaches fast and crashes the party, right through the frontage windows. Janis Withers crawls out from the explosive blaze, and with her last breath, shouts that Arion has returned.
P.I. Rolly Waters wasn't at the party, but heard about it from a fellow musician who was playing the gig. Rolly is hired to investigate and soon connects Butch Fleetwood's dog tags to Janis. He had been one of the first Navy divers working in the secret dolphin program. The local police and the FBI are wary as Rolly uncovers clues about several prominent, and also some shadowy individuals. The Navy is not happy that Rolly is asking questions about Arion. With so much against him, Rolly incurs insults and much worse. He views the abuses as expressions of the other person's fears. What's worse are the dire threats he faces. Despite the questions and deterrence from the authorities, this determined musician /P.I. follows the trail to its exciting crescendo.
This is the fourth novel in the Rolly Waters mystery series, and author, Corey Lynn Fayman paints fascinating glimpses into the world of music and into the contrasting world of Navy programs. This book is a refreshing and contemporary remake of the classic P.I. Genre, including a thrilling and diverse group of supporting characters and suspects. The narration is crisp and bold and is part of the driving force that moves the plot forward at a high velocity.
Building suspense into a real page-turner is this author's forte, and the resolution at the end is nothing short of breathtaking. Rolly Waters reveals that what can be seen on the surface may be a mere reflection of what someone designs. He digs deep to uncover what really happened so long ago. Seeing through the murky water of lies, he finds a wave no one was prepared to ride.