Listen to or download this article: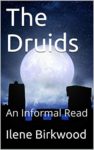 Publisher: Independently Published (2020)
Buy the book now at:

Amazon
Author's Website
The Druids are not just a fictional group of magic wielders in funny hats, but a people of ancient Celtic cultures that prosper to this day. If you are looking for a short, accessible guide to the history and way of life of the Druid people, Ilene Birkwood offers an easy to understand introduction to Druidry in The Druids: An Informal Guide. Druidry is not a religion like some may think, but a way of life through peace and preservation of nature.
Druids have seen a surge in numbers in recent years as a result of people around the globe feeling dissatisfied in a world continually damaged by pollution, greed, and war. These people wish to promote a more peaceful and simpler way of life. Birkwood's guide touches on different areas of the culture throughout the long history of the druids, such as their education system, various sacred sites, history of persecution, and, yes, their roles as witches. Birkwood even shows us how Druidry is practiced today.
Indeed, the group has a rich history and culture, and this short book only brushes the surface of these fascinating people. Birkwood wrote the book because she intended to create an introduction to the subject that was quick and easy to read—and she's succeeded. Her passion for the topic leads her on a two-year researching, traveling to various druid sites. After setting the book down, readers will yearn to learn more. Thankfully, the index is an excellent resource and can be used as a jumping-off point for those whose curiosity is piqued by Birkwood's endeavor.
The Druids, especially in its chapter on the Druid education system. Birkwood's research is well developed in this section and an intriguing read. The overview of famous druid sites, including the most famous, Stonehenge, will inspire wanderlust in all readers. Though Stonehenge is a breathtaking and mysterious landmark, the other druid sites described are even more exciting because they are mostly unknown to the general public and will encourage further research and perhaps exploration for those so inclined.
Ilene Birkwood is also the author of her New Zealand Mystery series, including What to do About Emma and Deadly Deception, and a memoir, The Second Torpedo, concerning her time in WWII. Birkwood, a U.K. native, has worked in Silicon Valley and lived in New Zealand for fourteen years. Her work has been translated into many languages as well.
If you are looking to dive into the infinite and diverse world of history, a study of the rich archives and dynamic culture of Druids is the perfect place to start. Ilene Birkwood's The Druids: An Informal Guide is just the right hook for history lovers and those who may be interested in dipping their toes into the subject. When all is said and done, every reader is sure to want more from Ilene Birkwood – and her druids!