Listen to or download this article: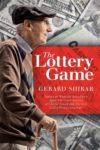 Publisher: iUniverse (2020)
Buy the book now at:

Amazon
Cancer survivor Pete Morrissette wants to spend the remainder of his life relaxing beside the heated pool or strolling through the gardens at the up-scale assisted living retirement community. Instead, he's "doing time" in FMC Devens, a federal prison hospital.
How did mild, friendly Pete Morrisette end up the scapegoat in a con that duped Massachusetts's Lottery out of nearly $5,000,000? While everyone in prison claims they are innocent, Pete truly is. Even one of the prosecuting attorneys can see that, but someone has to answer for the dirty deed, and Pete is an easy target.
In Gerard Shirar's latest suspense legal thriller, eighty-eight-year-old Pete is the perfect everyman. After leading a relatively quiet life, Pete plans on leading a relatively quiet retirement. A father, a husband, and an all-around decent man, nothing exciting or monumental ever happened in Pete's average, upper-middle-class life. But all that changed when his wife of fifty-three years died. Pete moved to Brook Haven, a retirement home catering to a senior intellectual set, and, as one may expect, he soon became bored.
When Manfred Toomey, a former big-wig businessman, moves into Brook Haven and establishes a gambling club, he befriends Pete. And when Toomey approaches him about organizing a lottery-playing group to raise money for a charity organization, Pete cautiously agrees. Pete is smart – but not smart enough to trust his instincts. His desire to help struggling families quiets his suspicions about the legality of what he's been asked to do – and his common sense. He wants to help but ends up as a pawn for the Mafioso. Big money walks free while the once hard-working father and husband takes the fall to appease a misplaced need for justice – the appearance of it anyway.
Shirar creates a compelling case in Pete's story, so neatly fitting together that it's frightening in its plausibility. He builds a resilient and relatable character in Pete, one who tells his story through an engaging second-person point of view journal from prison. Growing old isn't for sissies, and through it all, Pete chooses to see his own story as "God's lottery" and deals with whatever "fate and time" have given him.
Just like Shirar's other works, readers will find an intricate study of human nature and the vulnerability of those we care most about in this mystery thriller. Pete Morrisette's story feels as if it could have been ripped from the pages of newspapers today as countless elderly are duped by those who would prey upon them. And that's what makes The Lottery Game a must-read.
Gerard Shirar is a Finalist in the 2020 Mystery and Mayhem Awards for When the Rules Don't Apply.