Listen to or download this article: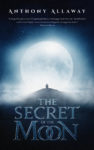 Publisher: Anthony Allaway (2020)
Buy the book now at:

Amazon
Author's Website
In a world once nearly obliterated by war, mankind has been put under the control of powerful religious forces. However, not all humans are convinced of the beneficence of their rulers. A young man named Axel is destined to combat the evil that pervades his realm.
Axel is an introspective young man, partner to Val, his beautiful true love, with whom he shares many secrets from childhood. He questions the meaning of life, the mysteries of the cosmos, even the works of God. His nemesis Lucinder is the offspring of a mother raped and savagely beaten by his priest father, leaving him with no feelings of love or compassion, only hatred underpinned by a deep cynicism.  Now known as the Serpent Priest, Lucinder and his goddess-like lover Shira hold thousands in thrall, promulgating rigid religious doctrine. When Axel learns that Lucinder is planning a global upheaval, he knows he must act before Lucinder has a chance to exact his wrath.
First, Axel urges his little band of loyal companions to retreat by entering the Enchanted Forest. The forest is seen as a mysterious, dangerous place, but Axel reveals that he spent time in the forest as a child and that there are forces of good within its shadows. From a Buddha-like human figure and heavenly visions, Axel will learn why he has been chosen and what sacrifices he will make in an epic battle against evil.
In this engaging debut fantasy, Anthony Allaway writes with an undeniable flair for the genre with tropes reminiscent of Tolkien and C. S. Lewis. He uses Biblical lore, European mythology, and ancient folklore in his story, though all are clothed in illusion and metaphor. One example is the fruit tree that stands in the middle of the Enchanted Forest, the tree from which Axel and Val eat the fruit. As a consequence of taking and eating the fruit, the children are banished from the Temples of Avalon, where the monks reside. But from the fruit, in Allaway's mystical depiction, Axel is given revelations about the powerful secret of the moon.
The author has created vibrant characters: innocent children; nefarious priests; memorable females like the generous-hearted Grace and the nasty-minded Shira; and angelic beings who seem a cross between the pure spoken of in religious literature and the all-seeing but humanly flawed celestial overseers described in Greek mythology.
The blend of heady philosophy and an action-packed plot forms a colorful, page-turner-of-a novel.  Allaway's story is the stuff dreams are born out of, easily envisioned in cinematic images that will appeal to all imaginative readers.