Listen to or download this article: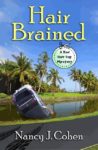 Publisher: Orange Grove Press (2017)
Buy the book now at:

Amazon
Author's Website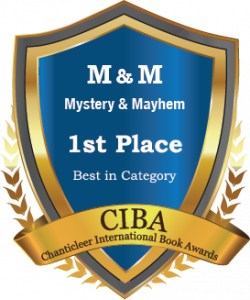 A young infant and a flurry of disturbing information enter Marla's life in Nancy Cohen's newest mystery, Hair Brained: The Bad Hair Day Mysteries, Book 14.
Marla Vail's expectations of bringing in a joyful and prosperous New Year immediately dwindle when she learns that her friends, Tally and Ken Riggs, have gone missing, leaving Luke, their four-month-old son, in the care of the babysitter. Since Marla is listed as guardian of Luke, she and Dalton, her husband, have no choice but to bring Luke to their home. Marla faces the "great unknown" with a ray of hope that she would be hearing from her friends soon. But that never happens.
A trip to the hospital confirms Marla and Dalton's worst fears. A car accident leaves Ken deceased and Tally in ICU and comatose. Now Marla has to find a way of juggling carrying for Luke while running her busy hair salon. Amid the abrupt changes under horrific circumstances, Marla has no idea that there is much more behind the car crash, especially when one of Ken's colleagues is murdered.
If you haven't already heard of Nancy Cohen, where have you been? The award-winning mystery author pens unique and fascinating stories about a somewhat underdog mid-thirties hairdresser who has a fetish for detective work. And why not, considering her husband is a police detective? The odd stylist-sleuthing combo makes for fresh and tantalizing reading for a wide-range audience that goes well-beyond mystery aficionados.
Cohen's writing style is surefooted and her characters, vibrant and varied (multi-cultural, racially mixed), as in Hair Brained, the fourteenth installment of her Bad Hair Day Mysteries series. Marla, Cohen's featured character, may have had her past set of traumatic situations, but that doesn't seem to stop her when she senses something awry. A feisty woman-of-action, Marla faces fear trembling but determined to win over dark and seemingly unconquerable conditions even with an infant in her arms. 
One would think that characters would be commonplace in laid-back Florida, but that's far from the truth. From warm and caring family members and well-meaning people scarcely eking out a living to an imaginative mix of surly folk, Cohen's cozy represents folks from various backgrounds befitting amalgamated Floridians. The action builds with a slew of twists, turns, and near nail-biting climactic tension. 
The hair-raising, fast and delightful cozy mystery, Hair Brained: The Bad Hair Day Mysteries, Book 14 won First Place in the CIBAs 2018 M&M Awards for Cozy Mystery Novels.