Listen to or download this article: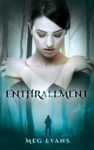 Publisher: Meg Evans (2020)
Buy the book now at:

Amazon
Author's Website
To pre-order your copy of Enthrallment today, click here!
One woman unwittingly enters into a deadly game of obsession. What must she pay to regain her body and soul?
Between classes and her part-time job, Zara Logan doesn't have much time for socializing or even the horror movies she loves and hates, but when Dorian Hatch moves in next door, her life quickly shifts from familiar routine to chaos. Dorian is drop-dead gorgeous. He's the stuff that dreams are made of – and that becomes a bit of a problem for Zara.
It's a deadly game, the pursuit of Dorian. Zara doesn't set out to be possessed body and soul by her neighbor, but obsession is a tricky web. What begins as spying on the hot guy next door quickly becomes so much more. Zara knows her need for Dorian is unhealthy at its most innocent and destructive at its most dangerous, yet she cannot rid herself of the burning desire for him. She sees her identity slipping away, knows it's consuming her, but nothing matters, not even when Dorian asks what she is willing to "stake" to be with him.
Zara's attraction to the mysterious Dorian turns up a few thousand notches to an undeniable blazing heat, full-on obsession. Her relationships with her Aunt Cynthia (who raised her) and her best friend suffer when she begins lying so that she can secretly spend time with Dorian. Aunt Cynthia and Rachel try to make Zara comprehend their concerns, but Zara believes she is under control.
But who can fight a supernatural dark force? Zara soon experiences some rather strange physical symptoms such as blackouts and nightmares, and an all-out need for the man, Zara is far from being in control. She's stuck in an all-consuming compulsion to be near him, but with every move closer, she senses absolute darkness surrounding him and knows it's only a matter of time before she can no longer find her way back to herself.
Meg Evans doesn't let up on her main character but pours on the heat and throws Zara into one sensuous scene after the other until Zara feels used up and strung out. The author manages to craft a tale that is simultaneously a steamy romance and an uncomfortable portrayal of what it is to be genuinely obsessed. Indeed, it isn't until much later that Zara realizes how much of a Dorian-junkie she has become. He is the fulfillment of her greatest dreams and the embodiment of her worst nightmare. She feels the humiliation of her neediness but can't pull away from the way Dorian makes her feel. How does he do it? What is this power he holds over Zara?
Zara's stress is nearly her undoing, but this pain is nothing compared to the escalating obsession that consumes and drives her, leaving her to wonder if she is losing her mind. It's all tied tightly together, which promises to leave readers enthralled and desperate for more.
Remember to pre-order your copy of Enthrallment right here!