Listen to or download this article: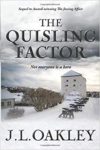 Publisher: Fairchance (2020)
Buy the book now at:

Amazon
Author's Website
During World War II, "quisling" became a byword for a particular type of traitor, one who not only betrays their own country but also actively collaborates with the invaders. The origin of the term was taken from an actual person, a Norwegian named Vidkun Quisling, who didn't merely cooperate with the Nazis but actually headed a collaborationist regime in his own country.
The Quisling Factor takes place in the immediate post-war period, as the Nuremberg Trials are gearing up in Germany. Norway is conducting its own post-war legal purge of collaborators at all levels of government.
The story is a direct follow-up to the author's award-winning World War II novel, The Jøssing Affair. This second novel focuses on the physical and emotional toll of war, and its precarious weight of peace on the survivors.
While the events of J. A. Oakley's latest novel directly relate to those in The Jøssing Affair, each book quite capable of standing alone. The first one deals directly with the dangers of war, particularly for those who were part of the anti-Nazi resistance. The Quisling Affair is a peacetime story; and while it definitely deals with the war's aftermath, it also sits on the chilling crossroad between a spy thriller and Nordic noir, as the dangers faced by former intelligence officer, Tore Haugland, his wife Anna and his Norwegian family face in two directions.
During the war, Tore was captured by the Gestapo, then tortured by Henry Oliver Rinnan, a Norwegian who ran a notorious organization that targeted resistance organizations in the Trondheim region. He is now scheduled to testify against Rinnan and his vicious gang. While those leaders are in prison, someone on the outside clearly does not want Tore to testify. His family is being threatened to perhaps block his testimony. There is also the possibility of betrayal from within. Not all of Tore's Norwegian family is willing to accept his half-German, half-American wife as they are unable to separate their suffering at the hands of the Nazis from her heritage.
This meticulously researched historical epic delves deeply into the traumas of all the survivors, whether military, resistance or civilian, as well as peering into the abyss that lies between the horrors behind them and the hopefully brighter future ahead. The reader sees into Tore's mind and empathize with the way that his war continues to eat at him – and his heart that has chosen not just to survive but to love again.
We highly recommend The Quisling Factor for readers looking for an exceptional post-WWII story, for a fantastic thriller with both espionage and domestic elements, and for anyone who loves Nordic noir and would like to see it set in another era. This book is a winner.