Listen to or download this article: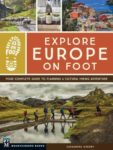 Publisher: Mountaineers Books  (2018)
Buy the book now at:

Amazon
Author's Website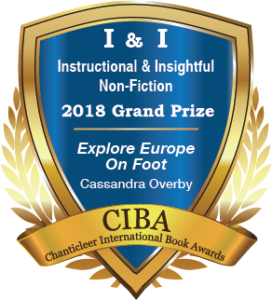 Due to COVID-19 sweeping across continents, travel restrictions are at an all-time high. With the general population being placed on lockdown, the need for social distancing, and hunkering down moving towards an indefinite timeframe, some much-needed armchair travel adventures couldn't come at a better time.
Here in Cassandra Overby's encyclopedic guide Explore Europe On Foot, readers are taken through a step-by-step process of dreaming, planning, and hopefully soon experiencing memorable, slow travel ventures of a lifetime. Whether it's choosing a route and destination, deciding what to pack, finding appropriate accommodations and food options, or dealing with inevitable challenges, Overby supplies a world of information in this colossal foot travelers' bible.
A personalized introduction draws us into Overby's early disillusionment with travel, and what she felt was its all-too-often focus on the inauthentic global itinerary. A 2015 extended European tour with her now-husband, Mac, soon changed her mind. The trip filled with long walks and opportunities to live like locals ultimately rekindled her traveling desires and made her realize this slower, off-the-beaten-path journey mode offered a much more genuine and rewarding experience, and truly "opens the door to trail magic." Along with the best natural beauty a region has to offer, Overby showcases such travels as an opportunity to glimpse varied cultures up close and personal. Foot travel is a chance to learn the rhythm of a region's daily life and participate in everything from the likes of a shared meal to chores on a farm, or sing-a-longs at the local watering hole.
The book includes specifics of 15 hand-picked walks from classics like the Tour du Mont Blanc in France and Italy, to lesser-known routes like King Ludwig's Way in Germany and Portugal's Rota Vicentina, as well as options for shorter wanderings. A planning section covers everything from travel companions and arranging transportation, to obtaining passports and plane tickets, to making reservations and buying travel insurance. Pre-trip exercises for both body and mind, along with detailed packing information offer shared knowledge for a positive travel experience. Beautiful interspersed photographs help take us around the globe. Whether the "meres" of England's Lake District or the dunes of Eng Chebbi in the Sahara Desert, whirling dervishes in Turkey or a special message of "Joy" spelled out in stone along Scotland's West Highland Way, all capture the heart of Overby's enthusiasm.
The rich narrative is woven throughout with poetic descriptives. Consider the beauty of an Icelandic trek rendered as " … intricate designs swirled in the earth by crawling and cooling lava, brave wildflowers that don't mind a challenge." Even a simple Spanish proverb of "On a long journey, even a straw weighs heavy", highlights an important message about the need for light, versatile packing. Clearly the author's smart advice about bringing home the best souvenir from a trip coincides with the less incumbrance sentiment in suggesting travelers return to their homeland with the practical nuance of a new custom or attitude, i.e. perhaps enjoying the lingering dinners practiced in France, or realizing the importance of family as viewed in the Italian culture.
Overby's shared anecdotes and experiences provide a nice change-up amidst the facts and figures featured throughout the chapters, particularly if the book is read from start to finish. Readers will find the information overwhelmingly beneficial in terms of necessary specifics for trip planning. Also, the book's easily followed design allows readers to meander through chapters and dream of where they will go when they can.
Overby's own foot-travel enthusiasm ignited similar passions with family and friends, and ultimately became the impetus for a new life's calling and writing this book. In the resulting Explore Europe On Foot, this walking aficionado now serves as both guide and inspirational cheerleader to help all wannabe hikers turn their dreams into reality someday.
Explore Europe On Foot won the CIBA 2018 GRAND PRIZE Insight & Instruction Awards and remains one of our favorites.