Listen to or download this article: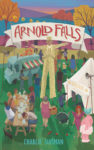 Publisher: Independent Publisher (2020)
Buy the book now at:

Amazon
Author's Website
Charlie Suisman's debut novel is a wonderful escape to a small fictional community in upstate New York. Here a melting pot of quirky residents brings Arnold Falls to life, a town with a unique history and charming inhabitants whose lives are intimately intertwined.
Settled in 1803 by the unscrupulous Hezekiah Hesper, the town for unknown reasons was named after Benedict Arnold. Adding to the oddities, the closest waterfall is twenty miles away. The area is known for sudden bursts of crab apple-size hail pelting the landscape without any scientific explanation. Hence the incentive for "Hail Pail Day," a neighborly tradition surrounding the distribution of galvanized bucket head-coverings.
Suisman engagingly presents Jeebie Walker as the story's primary narrator. A gay man in his early 40s, he moved north of the city in the hopes of a quieter life with his partner, Miles. Though things didn't work out, Jeebie has settled into his fixer-upper, Queen Anne-style abode, and now seems a positive fixture in this hamlet.
The creative narrative quickly draws us into multiple storylines. First, there's Jenny Jagoda's mayoral campaign against a clueless incumbent who has inadvertently shipped bomb-making supplies to a city in Romania. There's an all-out effort to save a beloved and amorous turkey from the chopping block of a local celebrity chef looking to up her ratings. Of course, there must be a fight to thwart the construction of an environmentally destructive tire factory proposed by a shady developer. Readers will quickly realize that Arnold Falls is a kaleidoscope of hilarity, one that we may like to visit over and over.
As a character-driven piece, Arnold Falls thrives as a friendly place filled with eccentrics, old guard, hipsters, artists, drug dealers, and reclusives. Among the eclectic menagerie, a talented henna-headed pickpocket/talent agent, a knowledgeable record store owner whose legendary music and weed pairings have brought "harmonic convergence" to the community. Motown chanteuse determined to steer her friends to newfound love, and the flatulent plagued, 93-year old daughter of a successful madam, likened to "a walking piece of history." Suisman shines in his delivery of these characters. Here details offer a colorful array of ages, ethnicities, backgrounds, and sexual orientations, all just trying to make the best of their given circumstances and situations. Amidst snappy dialogue and genuine heartfelt conversations, members of this tight-knit community openly reveal their human foibles and frailties. Above all, there is a commonality of compassion and caring that feels authentic.
As town residents continuously interact, whether in casual run-ins, hopeful dating, town meetings, or planned gatherings, Suisman makes it easy to get to know those finding refuge in this town. While each new scene takes on a vignette-like quality, the overall thread of human connection eases them into the continuous storyline.
Some unexpected revelations in the latter chapters of the book brightly showcase the true depth of these individuals and their lifelong hold to the community. In this rare enclave, the story's feel-good wrap-up proves the perfect celebratory testament to an all welcoming sanctuary filled with food, wine, music, merriment, and love. In short, a place we'd like to visit!