Listen to or download this article: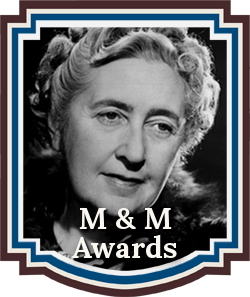 Congratulations to the First Place Category Winners and the Grand Prize Winner of the M & M  Book Awards for Cozy and Not-So-Cozy Mysteries,  a division of the 2019 CIBAs.
The CIBAs Search for the Best M&Ms!
Chanticleer Book Reviews is celebrating the best books featuring "mystery and mayhem", Amateur Sleuthing, Light Suspense, Travel Mystery, Classic Mystery, British cozy, Hobby Sleuths, Senior Sleuths, or Historical Mystery, perhaps with a touch of romance or humor. We love them all.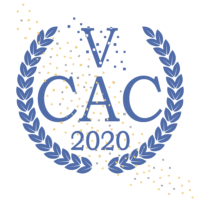 The 2019 M & M  Book Awards First Place Category Winners and the M & M Grand Prize winner were announced at the Virtual Chanticleer Authors Conference that was broadcast via ZOOM webinar the week of Sept 8 -13, 2020 from the Hotel Bellwether in Bellingham, Wash.
Wendy Delaney, author of The Working Stiffs Mysteries – Previous M & M   Grand Prize Winner announced the 2019 M & M Book Award Winners.
This is the OFFICIAL 2019 LIST of the Mystery & Mayhem Book Awards First Place Category Winners and the Mystery & Mayhem Grand Prize Winner.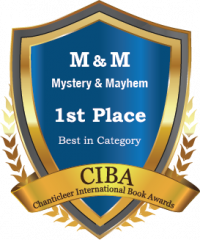 Congratulations to All! 
Susan Lynn Solomon  for Writing is Murder
Kari Bovee for Girl with a Gun
Susan Z. Ritz for A Dream to Die For
MJ O'Neill for The Corpse Wore Stilettos
Henry G. Brinton for City of Peace
Vee Kumari for Dharma, A Rekha Rao Mystery
M. J. Simms-Maddox for Mystery in Harare
Liese Sherwood-Fabre for The Adventure of the Murdered Midwife 
Michelle Cox for A Veil Removed
The Mystery and Mayhem Book Awards 
2019 Grand Prize Winner is
Dharma, A Rekha Rao Mystery
by Vee Kumari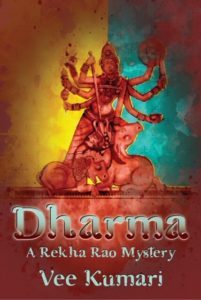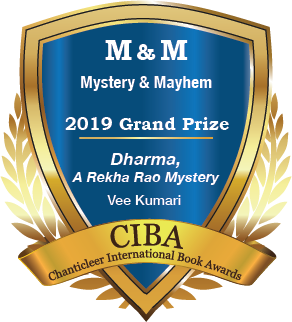 This is the digital badge for the 2018 M&M Grand Prize Winner – A Promise Given by Michelle Cox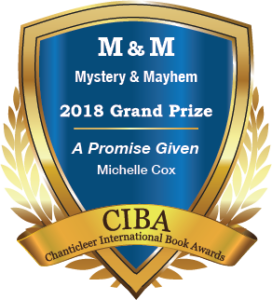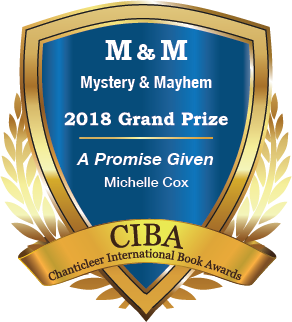 How to Enter the Mystery and Mayhem  Book Awards?
We are accepting submissions into the 2021 M & M   Book Awards until April 30, 2021. Submissions into the 2020 M& MY Book Awards is closed. 
The 2020 M&M Book Awards winners will be announced at CAC 21 on April 17, 2021.
A Note to ALL the WINNERS: The coveted CIBA Blue Ribbons will be mailed out starting in October. We will contact you with an email to verify your mailing address and other items. We thank you for your patience and understanding.
If you have any questions, please email info@ChantiReviews.com == we will try our best to reply in 3 or 4 business days.