Listen to or download this article: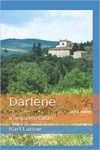 Publisher: Independent Publisher (2020)
Buy the book now at:

Amazon
In a propelling follow-up to Karl G. Larew's captivating novella Catari, where love, history, and family drama become intertwined within an investigative murder mystery, the story continues in Darlene, an artfully crafted literary sequel.
Having uncovered the mystery of Catari's death, inquisitive BFFs and comrades Maxwell Roux and Darlene Wolfe reunite to deal with the conflict-driven wrath of Catari's stepfather, Hugh Fontane, and her half-brother Jeffrey. They seek to gain control over the Fontano family estate, as well as Catari's reputation. However, the historic Italian villa and burial crypt have been left in Max and Darlene's hands, as per the wishes and dictum of Catari's baronial grandfather's will.
Early on, readers learn that Max had a former relationship with Catari. Bi-sexual Darlene, who lives as a lesbian, was also involved with Catari. Clearly, the unique friendship delivers an interesting trio, though now with Catari's passing, the remaining duo seems duty-bound to keep their relationship at a platonic level, because Darlene wishes to remain a committed lesbian; however, desires undoubtedly bubble beneath the surface. Initially, Larew weaves charming hand-holding and shared beds, with Darlene robed in oversized PJs, to suggest proper, old-fashioned decorum, yet the sensation of underlying lust and desire prevails.
Catari's family members' intentions are brought to light via written correspondence, agitated encounters, and lively meetings that reveal the father-son desires to turn the villa and family crypt into a tourist rental site and attraction for ghost hunters. The Fontanes levy their plans with threats to expose Catari's romance with Darlene and slander her reputation with untruths regarding risqué photos, problematic drinking, and "casting couch" insinuations.
Larew's sophisticated narrative style quickly draws readers into the story. He allows Max to break the fourth wall and ask the audience difficult questions about ESP, ghosts, and sex. From the straight-forward opening directive that asks, "Do you believe in precognition?" to admonishments to readers hoping to glimpse Max and Darlene's potential sexual interludes, Larew also allows Max to go further with intimate asides. The use of these creative tropes helps create a tangible atmosphere and hook readers immediately.
There is a certain air of old-world formality in Larew's language and intonation that speaks directly to these central characters' refinement. With Max's love of music and Darlene's career in the field, classical and operatic references are well placed throughout the story. From Caruso's "Pour un Baiser" (For a kiss) announced as a bookend in Max's life, to the strains of "La Bohème," music suggests itself as a fitting landscape for the Catari, Darlene, Max three-fold drama. Indeed, such melodies offer a complimentary balm for the emotional upheaval of these characters and their situations.
Against detailed backdrops of New York apartments, shared meals at ethnic eateries, and the sprawling estate in Italy, Max and Darlene navigate their way through the mire of tensions, threats, questions, and concerns in their effort to preserve the sanctity of the villa, and uphold the legacy of their beloved Catari.
Darlene is clearly a provocative and arresting work that can stand freely on its own. With notable characters and well-defined interactions, the familial drama proves a delightful and compelling read. Those who want more may wish to pick up Catari, the novella that started it all.