Listen to or download this article: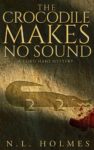 Genre(s):
Publisher: N.L. Holmes (2020)
Buy the book now at:

Amazon
Author's Website
Danger surfaces like a crocodile, sudden, unavoidable, and with deadly consequences in N.L. Holmes' latest novel, The Crocodile Makes No Sound.
Politics now touch the lives of Lord Hani's cherished family members, dear friends, and, ultimately, the society of this fragile Egyptian New Kingdom.  But it's Lord Hani's diplomatic skills that hang in the balance and are put to the test.
Trusted allies are few and hard to recognize. The winds of change sometimes blow apart past loyalties, or so it may appear. Hani must rely on his wits and ingenuity, but will that be enough?
Hani's beloved hometown of Waset has eerily emptied as much of the population has migrated to the highly acclaimed sparkling new capital. With his conflicting beliefs, Hani attempts to keep a low profile with his new government and urges his family to do the same for their own safety.
These are perilous times. But when his brother-in-law goes missing after being interrogated, the family fears he's dead. In a move that Hani sees as suspicious, the king orders him to host a delegation at his home until the king can prepare to receive them. Are Hani and his family under increased scrutiny?
Under this cloud, Hani is summoned to the Beloved Royal Wife at the new capital, who entrusts him with her dark secret and pleads for his help. She is being blackmailed, and the clock is ticking before her fears will be realized. Hani is cautious, knowing he must not take any action that could stir the king's ire. Yet he can see not only the danger to this young princess but also the broader implications to the new society if these revelations surface. He is compelled to investigate. When his suspect turns up murdered, Hani plunges deeper into a dark and menacing scheme.
Fun and memorable characters highlight the artful books by this author. While Hani probes the politics, he's also surrounded by fascinating adventures driven by others. His daughter studies with a curious doctor in the capital. The trials and tribulations of her internship are, at times, concerning. Hani's son follows in his father's footsteps as a scribe, but discontent with his work suggests he may pursue a new life goal, but is that a wise decision? Beloved and trusted assistant Maya, and Hani's daughter are newlyweds adjusting to married life and their dreams together. And longtime friend Ptah-mes and his wife struggle to choose sides in this politically charged time. They each work to decide what it is they truly believe.
N.L. Holmes blends extensive knowledge of this period in ancient Egypt and vivid imagination into a page-turning mystery spicy enough to capture any mystery and historical fiction lovers' attention. Here we have an author who understands human nature and how that drives motives and actions to create an extraordinary story.
The captivating plot is punctuated with Hani's delightful and insightful aphorisms. The Crocodile Makes No Sound, and there's nowhere to hide.