Listen to or download this article: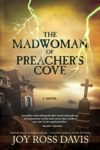 Publisher: MacKenzie Publishing (2020)
Buy the book now at:

Amazon
Author's Website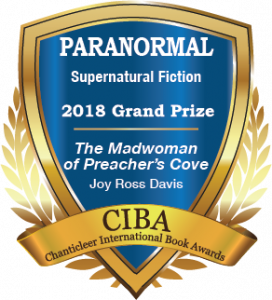 Award-winning author, Joy Ross Davis' latest work, The Madwoman of Preacher's Cove, ventures beyond the paranormal into the surreal. Like Medusa on a bad hair day, the lives of characters are intertwined and twisted in a snaky snarl of conflicting human desires, terrifying inexplicable events, and the lingering afterlives of ancient, supernatural beings.
Davis gifts us with a 21st-century legend, replete with mythological themes and creatures, and snippets of folklore and superstition melded with documented vagaries of weather, obscure herpetology, and creates a mystical potion worthy of Circe. In other words, Davis gives us a thrilling read!
Rumors about suspicious deaths have put Preacher's Cove, Alabama, a small, historic town notorious for powerful, killer storms, on the map. Hap Murray, Huntsville's Channel 12 field reporter, with family ties to the Cove, arrives in town on assignment, armed with only limited knowledge of the town's history of inexplicable deaths. The rumors speculate that the local pastor may be involved.
Hap meets the beautiful, provocative owner of Cove's Inn, Libby Arbuckle, when he first arrives. She is a woman with many secrets—a woman with a history. When Libby, along with Chief of Police Riggs, join Hap in the search for the truth, their ensuing relationship proves integral to Hap's investigation.
During his stay, Hap experiences supernatural events that sometimes make him question his sanity, and he already has issues. Like PTSD, he is plagued by periodic, severe headaches accompanied by fragmented, bizarre visual and auditory hallucinations along with phatomasia, he smells things that are not there, which renders him anxious, fearful, and confused. These are never far from his mind, along with the guilt he feels over losing the love of his life and their child through his own failure to act.
Little does Hap know that the affliction and emotional angst he experiences are pieces of the puzzle he's challenged to solve. Or, that when Preacher's Cove welcomes him, a chain of events are triggered that change the shape of residents' lives forever, in ways that no one could ever predict.
Joy Ross Davis has crafted an eerie, twisted plot where reality is warped—slightly out of focus, keeping the reader off-balance and engaged. The Madwoman of Preacher's Cove satisfies dreamers' needs for a taste of magic, the desire for good to triumph over evil, and the reassurance of a benevolent all-powerful being that is always available.
The Madwoman of Preacher's Cove won Grand Prize in the CIBAs for Paranormal Fiction.