Listen to or download this article: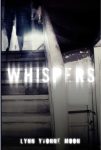 Publisher: Koehler Books (2018)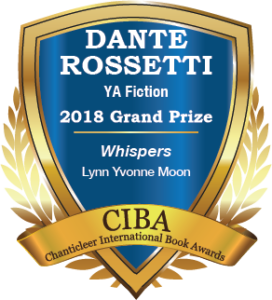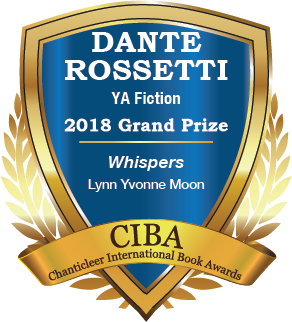 Whispers by Lynn Yvonne Moon explores the issue of incest through the life of twelve-year-old Musetta, whose father has just died. We meet Musetta at her father's funeral and realize that this girl is dealing with serious issues. Still, more than grief, she's filled with rage – and relief. And we cannot blame her. Whispers is filled with enough intrigue and family secrets to glue readers' eyeballs to the page and hug their parents when they reach the end of the tale.
Musetta can't get the attention of her grieving mother, and she's not sure who she can turn to for help. Who will believe her story? But she knows what happened to her. After her father's funeral, she believes the Friday night ritual of rape is over and that the molestation will stop. However, it's not quite that easy.
First off, there are voices in her bedroom walls – and worse, the molestation continues. Is it her father's ghost? She can't go to her mother for help, and she won't go to the law unless her mother is by her side. Who would believe her over her late father's reputation as an upstanding citizen and the favorite local judge?
But Musetta isn't alone. Her friends hear the ghostly voices and soon believe her. As they band together, taking on the role of detectives, they have no way of knowing how much danger lies ahead. But when one of her friends is abducted, then another, it will take all the courage and resourcefulness she has to continue on and to discover precisely who is behind the creepy whispers and the horrible abuse before it's too late.
Lynn Yvonne Moon develops a protagonist who will search for the truth no matter where it leads, and no matter what, she discovers about her family. Soon, she uncovers the lies of her grandparents.
Her father was a twin? It takes several more visits with her grandparents and a box filled with photos and papers before Musetta has the proof she needs. But will it only get her into more trouble? Of course.
This award-winning, page-turner of a novel reveals the reality that generational secrets have power. Secrets that put Musetta and all of her friends in great peril. Musetta's determination to put the pieces of her family puzzle together led her further along the path to her family's undoing. Because what she uncovers will have readers blood running cold.
Lynn Yvonne Moon unravels her complicated plot on this sensitive topic with a deft hand. Careful readers will pick up tiny clues that will keep them turning pages as we root for Musetta in this hair-raising tale of family intrigue and abuse.
Whispers won the CIBA 2018 DANTE ROSSETTI Award for Young Adult fiction novels.