Listen to or download this article: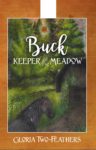 Publisher: Crooked Tail Press (2020)
In this engaging children's tale by author Gloria Two-Feathers, a young colt named Buck will learn how to obey, how to defend, and how to strike out on his own.
The scene is set in the Great Plains, where a river named Minisose divides a sea of tall green prairie grass. Many animals call that grassland their home, and the most magnificent is the herd of wild horses led by a dark stallion named Plenty Coups and his chosen mate, the lovely cream-colored mare, Cloud. By tradition and instinct, Plenty Coups protects the herd from attackers, while Cloud leads them to safety.
Cloud knows how to find watering holes when the sun, Wi, is at its hottest and how to locate grass when Winter Man covers the ground with snow. One day in early spring, she realizes she must find a safe place to deliver a foal. In a secluded spot near a little pool, surrounded by the fresh grass, she delivers Buck, the young colt who soon accompanies her to find the herd again. But the winter has brought out a pack of hungry wolves led by the fierce Yellow Eyes, determined to bring Cloud down and feast on her son. This is the first great danger Buck will face, and he shows himself to be smart, plucky, and independent. One day these qualities will come to the fore as he takes on his destined role: to search for and rule over a magic meadow.
This mystical story is intertwined with the ancient lore of the Lakota people. This is the second book for children with a traditional framework, the first being the award-winning and delightful, Tallulah's Flying Adventure. In this book, Two-Feathers identifies many natural presences with traditional names that play a role in the story's drama and poetic nature. Buck's youthful spunk will resonate with children and adults who will admire his spirit and growing strength. As much as readers admire Buck, they will fall in love with Cloud, the gentle mother who is not afraid to fend off a gang of bloodthirsty wolves. Buck – Keeper of the Meadow contains beautiful, expressive illustrations by fourteen-year-old artist Lucy Roe, and concludes with an urgent plea to all children, "to save the wilderness areas for future of all creatures," as Buck will do as he guards the ancient meadows.
Buck: Keeper of the Meadow will be a strong read-to for younger children and a very appropriate exploration for older children and young teens, with many thought- and question-provoking themes for family talks and lively classroom discussions.