Listen to or download this article: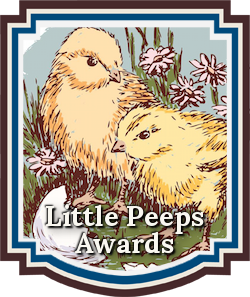 The LITTLE PEEPS Book Awards recognize emerging new talent and outstanding works in the genre of Early Reader Fiction. The Gertrude Warner Book Awards is a genre division of Chanticleer International Book Awards and Novel Competitions (CIBAs).
Chanticleer International Book Awards is looking for the best books featuring stories of all shapes and sizes written to an audience for Early Readers. Storybooks, Beginning Chapter Books, Picture Books, Activity Books & Educational Books we will put them to the test to discover today's best children's books. Looking for Young Adult Fiction? Check out our Dante Rossetti contest! Looking for Middle Grade Fiction? Check out our Gertrude Warner contest!
These titles have moved forward in the judging rounds from all 2020 Little Peeps entries to the 2020 Gertrude Warner Book Awards LONG LIST. These entries are now in competition for 2020 Little Peeps Shortlist. The Long Listers will compete for the Semi-Finalists positions. Finalists will be selected from the Semi-Finalists and will be announced and recognized at the CAC21 banquet and ceremony. The First Place Category Winners, along with the CIBA Division Grand Prize winners, will be selected from the 17 CIBA divisions Finalists. We will announce the 1st Place Category winners and Grand Prize Division Winners at the CIBAs Banquet and Ceremony on Sunday, April 25th, 2021 at the luxurious Hotel Bellwether in Bellingham, Wash. at the 2021 Chanticleer Authors Conference–whether virtual, hybrid, or in-person.
These titles are in the running for the Semi-Finalist Positions of the 2020 Little Peeps Book Awards for Early Readers.
Good luck to all as your works move on the next rounds of judging.
Ellie Smith – Tex the Explorer Journey Through the Alphabet
M. Lisa Rinaca – P Mind Your Q's
M. Lisa Rinaca – The Missing Punctuation Box
M. Lisa Rinaca – Two Different Princesses 
Courtney Shannon Strand – Hollyhock Hill
Robert Cole – Sollie
Masoud Malekyari – Great As A Button
Susan Faw – Poppy Ogopogo
George M. Johnson – How Hope Became An Activist
D.K. Brantley – Every Mummy Has a Mommy
Carmela Dutra – Little Katie and the STEAM Team
Carmela Dutra – Little Katie Explores the Coral Reefs 
Carmela Dutra – Little Katie Goes to the Moon
Carmela Dutra – Little Katie How to Talk to Your Robot
Dr. Justine Green – Completely Me
Lisa Rojany – Tutusaurua Rex
Courtney Shannon Strand – Ella's Umbrella
Lindy Ryan – Trick or Treat, Alistair Gray
Peter R. Fernandez – Pia and The Trolls
Dawn Marie Thompson – Sedwick the Seagull
Mercy Hansen Mize – Samson's Tail
Stephanie Ryan – Let's Learn about Chemistry
Pamela Tomlin – My Truly Most Favorite Fluffy Friend
Pamela Tomlin – Our Wounded Little Chickadee
Alycyn Culbertson – Look What Happened While I Was Sleeping
Raven Howell – So You Want a Puppy?
Pj McIlvaine – Little Lena and The Big Table
Dianne Moritz – Hey Little Beachcomber
Savannah Hendricks – The Book Who Lost Its Title
Mark Richardson – The Christmas War
Teal Blake – J is for Jackalope
Congratulations to
Trevor Young & Eleanor Long

whose work

Galdo's Gift: The Boovie

took home the Grand Prize for the 2019 Little Peeps Book Awards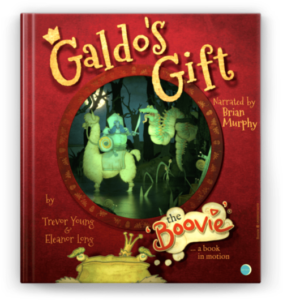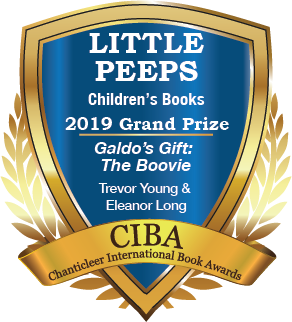 Here is the link to the 2019 Little Peeps Book Award Winners!
Our next Chanticleer International Book Awards Ceremonies  will be held  April 21 – 25, 2021, for the 2020 CIBA winners. Enter your book or manuscript in a contest today!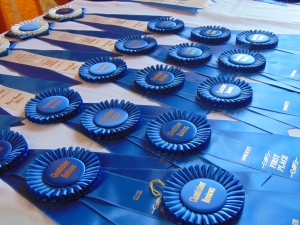 Don't Delay! Enter Today! 
 Enter your book or manuscript in a contest today!
We are now accepting entries into the 2021 Little Peeps Book Awards, a division of the Chanticleer International Book Awards.
As always, please do not hesitate to contact us with any questions, concerns, or suggestions at info@ChantiReviews.com.