Listen to or download this article: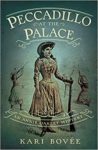 Publisher: Spark Press (2019)
Buy the book now at:

Amazon
Author's Website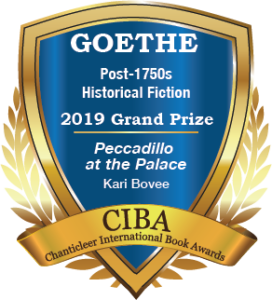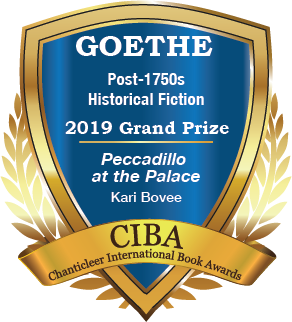 Kari Boveé's Peccadillo at the Palace, the second book in the Annie Oakley Mystery series, is a historical, mystery thriller extraordinaire. Fans of both genres will thrill at Boveé's complex plot that keeps us guessing from its action-packed beginning to the satisfying reveal at the end.
The book opens with the Honorable Colonel Buffalo Bill Cody's Wild West Show to England on a voyage to perform for Queen Victoria. They are not on the high seas long, when Annie's belove horse, Buck, jumps overboard. Her husband and the Queen's loyal servant, Mr. Bhakta, jump in to save the horse, or was Mr. Bhakta already dead before he reached the water? Thus, begins the mystery of who killed Mr. Bhakta, leaving all to wonder, is the Queen safe?
Someone wanted the Queen's man dead, and he is, but was it a matter of racism, intrigue, or an accident? Annie's search for clues points her in several directions, but is it the doctor, or the woman dressed in rags with the posh accent, or the crass American businessman and his floozy wife? All have motive.  Even Annie's husband has motive with his Irish background and ties to the Fenians and the Irish Republican Army (IRA).
Annie rushes through her days, trying to find clues and care for her husband who fell ill on the voyage and isn't recovering. Is her husband's illness seasickness, flu, or something else? Her husband forbids her to search for clues, fearing that Annie will get herself in over her head, but "Little Miss Sure shot" has no fear – as long as she's packing her pistols.
Annie follows her leads from the ship, the State of Nebraska, to the show's camp at the Earl's Court, the market, and the Queen's court. In a sea of suspects, everyone looks guilty. But, are Annie's hunches always right?
This wild romp through England's royal court is sure to thrill readers as tantalizing clues lead us astray; even as the body count rises and suspects are murdered.
Peccadillo at the Palace by Kari Bovée is a page-turner from beginning to end, so much so, that Bovée took home the Grand Prize in the CIBA 2019 GOETHE Awards for Historical Fiction. Readers will burn the midnight oil with this one. Highly recommended.
A marvelous, riveting whodunit with a complicated hero in Annie Oakley at the helm. A perfect read for mystery lovers and one we love. Highly recommended.