Listen to or download this article: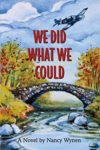 Publisher: BookBaby; 1st edition (2020)
Buy the book now at:

Amazon
Nancy Wynen's We Did What We Could is a well-conceived, smart, character-driven novel set across a grand European landscape. Here a formidable trio of young women groomed for mere social status demonstrates their strength, endurance, and courage as they move beyond the walls of academia to experience careers. The three must also deal with relationships, family expectations, and life issues amidst the often devastating and upending climate of war.
Lady Archer is a widow from the Great War. As Assistant Head Mistress at St. Martin's School, she feels girls should receive solid educations and prepare for real professions. With her high level of social ties, Archer looks for "future perfect leaders" within each new graduating class, possessing ideal traits of intelligence and creativity. In May of 1936, Archer sets her sights on three such proteges whose memorable antics foretell their potential for more significant life accomplishments.
In this three-part literary work, Wynen moves the narrative between the interconnected lives of these central characters. In the mind of their individual goals, natural-born leader Maggie Shelford obtains a job at the London Times; Agnes Fletcher heads for nursing school, and creative Ellie DeWever prepares to join the Netherlands foreign services. Ellie's kindred spirit Gran, another select alumnae of St' Martin's, offers up smart advice to the tune of, "Be prepared, and then you can adjust to whatever happens … Improvise as you go along."
From royal debutante ceremonies where these three friends sneak an outsider into high society's ranks to Agnes' innate ability to bluff her advancement through nursing school, imagination and talent help these women forge ahead. With the continuing influence of Lady Agnes, Maggie finds herself a member of the RAF (Royal Air Force), reporting for the Union Jack, and ultimately a chief press camp officer. Events of the day fill the storyline. With Ellie the first in the group to marry and start a family, Maggie and Agnes begin to contemplate their own destinies and opportunities to find love, romance, and a "real deal" relationship.
As expected, the backdrop of war predominates in a story playing out within a 1936-1945 timeframe. During this uncertain time, life is likened to a ballet where each step was delicate, and "losing one's balance was costly." Here towns are destroyed, families are forced from their homes, secrets are buried, and love and loss are intertwined. But the narrative isn't always frayed with hardship. Wynen aptly weaves humor throughout her work that serves well to balance tension and storyline.
When a significant twist in the plot occurs, Lady Archer's hard work with her proteges pays off. Here Wynen cleverly brings the story full circle with the re-enactment of an ingenious prank incorporated from their school days. A detailed wrap-up highlights these characters' futures and leaves Lady Archer hoping for post-war generations instilled with equally creative and indomitable spirits.
For those readers drawn to stories filled with the harsh realities of a war era and the emotional triumphs and tragedies of those involved, We Did What We Could proves a lively and entertaining exploration that showcases the fine art of determination and will power during the best and worst of times.