Listen to or download this article: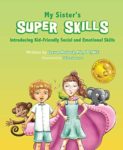 Publisher: Empowering Kids Media (2020)
Buy the book now at:

Amazon
Author's Website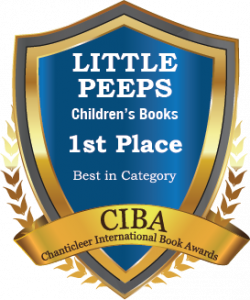 During these uncertain times, recent news reports have indicated that children as young as three years old can experience symptoms of anxiety and depression. Clearly, emotional upheaval is at an all-time high. Luckily, child psychologist, Lauren Mosback is here with her new book, My Sister's Super Skills. A tale that provides a fun and entertaining kid-friendly book that offers up healthy coping tools to help manage stress and promote positive emotional development for even the youngest of sufferers.
Here, fearless big sister Lily featured in her raspberry pink cape, serves as the motivational guide for her young brother David as he struggles to understand and deal with his mixed emotions. This smart, adoring, be-spectacled heroine offers simple little tricks to help her sibling feel better. Her advice of "Name your feeling to begin the healing," sets in motion an offering of interactive remedies that help David navigate his worrisome thoughts and gain a more positive outlook.
Mosback creatively chooses various animal actions to connect with each newly taught coping skill. Whether doing deep breathing like a horse, repeating self-affirmations with the strength of a lion, playing like a dolphin, or relaxing and cozying up like a Koala, the imaginative suggestions are entertaining and relatable for youngsters. Further sage advice: smiling, singing, painting, and even self-hugs, all positive affirmations that encourage kids to look beyond their uncertainty and incorporate these unique strategies when they are feeling overwhelmed.
Eye-catching illustrations by Chiara Savarese are a major component of the story and provide the perfect complement to the casual rhyming style of the narrative. Amidst the portrait of a horse with his flapping lips, and images of a bubble-headed Lily in a relaxing bath, riotous laughing chimp faces, and a P.J.-clad monkey/child dancing on a bed, the visuals bring whimsy and humor to the story and enhance a playful tone. Bright, crisp, and bold coloring lends a vibrant air to the pages.
Initial details of a troubled David evidenced in the sad eyes and the weight of a backpack heavy on his small shoulders showcase the toll of negative emotions. As the tale unfolds, suggested behaviors put into practice ultimately reveal a happier, wide-eyed youngster learning to deal with his problems.
As a licensed children's counselor, Mosback has smartly tapped into relevant subject matter reflecting the tumultuous state of our daily lives. In this well-crafted, engaging story, the highlight of a caring sibling relationship, and the clever offering of ways to manage feelings like sadness, frustration, anger, or fear proves an appropriate and timely gesture. While the work is primarily intended to promote emotional health and well-being for children, the core message is clearly relevant for readers of all ages. A charming worthwhile read reminding young and old alike to "think positive thoughts" and that "tomorrow will be a fresh start."
My Sister's Super Skills won First Place in the CIBA 2019 Little Peeps Awards for Children's literature.