Chanticleer Book Reviews is your author business center for the book promotion tools necessary to sell more books. We offer editorial book reviews, manuscript overviews, writing contests, an author conference, and book marketing opportunities.
Those who read "Raven's Run" will want to read this riveting sequel, but those who are new to Trudel's work will enjoy it on its own if they are a fan of political intrigue, firearms technology, and global thrillers.
This well-researched and beautifully written Regency romance will appeal to anyone who has ever loved and (almost) lost.
A story set in the 1970's that provides remarkable insight into the lives of a family exploring the open ocean
Smart and sassy Deputy Honey Beaulieu straps on her "Peacemakers" and takes the reader on a hilarious ride through the
Read More Reviews
The Grand Prize Genre Winners of the 2015 Chanticleer International Writing Competitions were announced at the annual 2016 awards ceremony that was held on Saturday, April 30, 2016 at the Hotel Bellwether in Bellingham, Wash. Congratulations!
More Contest News

To get traction in the eBook market, I tried out new things, made plenty of mistakes, and then had a series of increasing successes. Now I would like to share what worked for me.
More Marketing Tips
Book Clubs and Readers Special Offerings
Book Clubs and Readers find out about the latest book deals, book sales, author promotions and goodies, and news from Chanticleer Communty Authors in this special CBR news column just for you!
More Reader Specials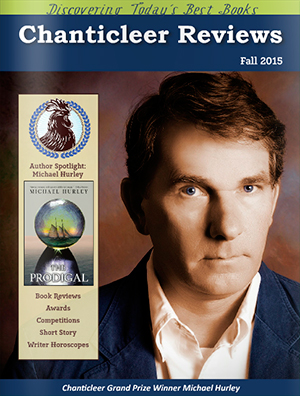 Share it:
Tweet