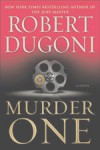 Publisher: Touchstone, a division of Simon and Schuster (2011)
Buy the book now at:

Amazon
Author's Website
In Murder One, lawyer turned novelist, Robert Dugoni has conjured up an intense page-turner that deftly mixes drama, mystery and suspense that will keep you guessing until its final pages.  Dugoni's vivid characters in his novel are marvelously believable, as are the Seattle locales that are described.
The characterizations of David Sloane and Barclay Reid (the central characters) are emotionally multi-dimensional, which makes this novel much more than a "legal thriller."  Sloane and Reid are high-profile adversarial Seattle lawyers who have done battle against each other in the courtroom. Both own .38 caliber handguns.  He likes his scotch on the rocks and never loses a case.  She takes  her martini with an olive and refuses to lose a case.
The rivals meet again, but this time out of the courtroom and discover that they have  much more than courtroom bravado and finesse. They are both going through the agony of grief: He, for the murder of his beloved wife; she, for her daughter's death from a drug overdose.
Sloane finds himself attracted to the beautiful and mesmerizing Reid—a woman who will do whatever it takes to satisfy her obsessions and agendas.  Yet, aware as he is of his own emotional fragility, he willing slips into her embracing spell.  Their fusion is quick—pumping steam into an unusually hot and humid Pacific Northwest September.
Reid focuses her drive and all her resources towards the Russian drug traffickers whom she blames for her daughter's death. Her well-known threats of revenge make her the number one suspect in a Russian drug dealer's murder.  Enter Sloane, who takes on the role as her legal defender only to discover that she is a woman of many secrets.
Dugoni masterfully shares his insights into the subtleties of law, often revealing them through the thoughts of David Sloane at work.  Dugoni's deep relationship that he shares with his characters is most evident when he puts them on the witness stand.  His ability to blend the emotional trials of the protagonist Sloane into a complex murder-mystery is nothing less than brilliant.
Murder One's immensely suspenseful plot twists and turns will have you devouring each of Dugoni's sentences seeking clues in this emotionally charged, fast-paced legal murder-mystery thriller.
Note:  Murder One is the fourth novel in the David Sloane series by Robert Dugoni. The Jury Master introduces David Sloane, attorney; Wrongful Death is the second in the series; Bodily Harm is number three.  Each may be read out of order, but this reviewer advises reading them sequentially to experience the development of David Sloane's character to the fullest.